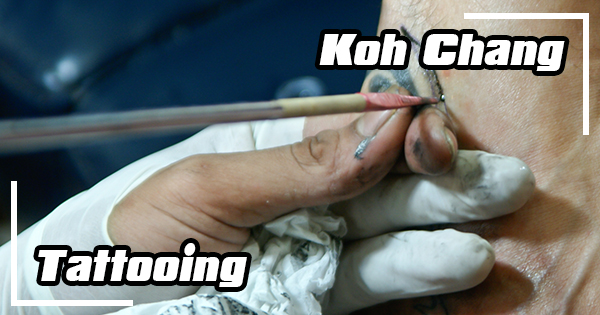 Bamboo tattooing is a traditional Asian technique that started more than 2000 years ago in Cambodia.
During the Khmer empire, all warriors were covering their entire bodies with tattoos. Over the years this tradition spread to neighbour countries including Thailand where it started in Buddhist temples with monks using it to represent their faith.
Nowadays this technique is more popular in Thailand than in the other countries from where it came from.
Besides the traditional bamboo tattooing, there are a lot of places which are also using the electric gun tattoo.
From the north to the south of Koh Chang you will see a lot of tattooing studios. Prices are relatively cheaper than what you can find in the United States or in Europe, a bit more expensive than in Bangkok, and the quality will depend on the skills of the tattooist of course.
If you are tempted by getting inked, why not try the Thai traditional way?
If you have never done it before you may wonder what are the differences between bamboo and machine tattooing.
Bamboo tattooing is much slower than machine tattooing, it can be 2 times or more longer depending on the design of course. It's more painful with bamboo but the skin is just punctured and not torn which means that there is no scabbing and because of that the skin is not bleeding and it's healing faster.
With bamboo tattooing, the colours are more vibrant and stay bright longer.
If after all of that you still want to get tattooed, there are a few things that need to be checked.
Be sure that the studio is clean. Most of the tattooist doesn't have air-conditioning and are just using fans. This means that people who have been tattooed before have been sweating. A dirty place and getting tattooed right on the floor could bring you bad infections.
Check that they are using brand new sterilized needles and proper tattooing ink. Most tattooists are wearing sterilised gloves but it's mainly to protect them from the ink. In Bamboo tattooing, the rubber is cut for the thumb otherwise the bamboo would slide.
If you have old tattoos which need to be re-coloured or covered, it's all the time possible. And finally, if you are attracted by tattoos but don't want to have it all your life, why not get a henna tattoo? The henna paste is made from a plant. It's painless and will last a few weeks depending on your skin.
My favourite Tattooists or Tattoo Artists, because for me, what they do is Art, are Naka Tattoo Studio, Danny Tattoo, and Traditional bamboo tattoo by King.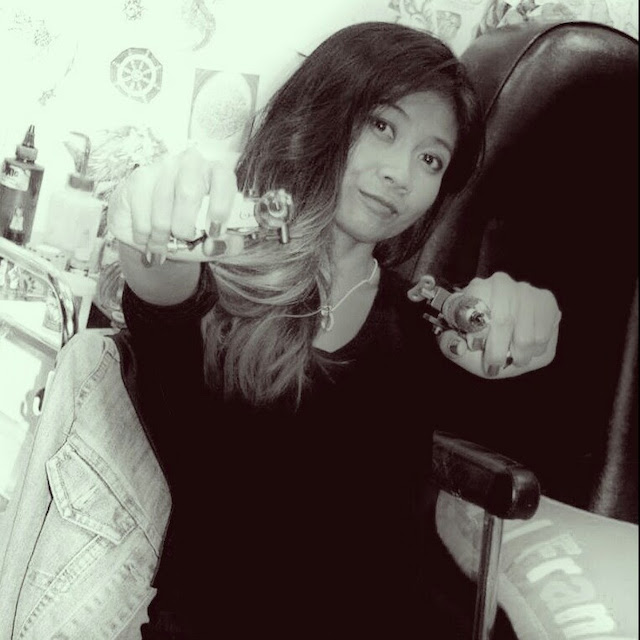 - Miss Coffee from Naka Tattoo Studio is located on White Sand beach. She has been studying art and been graduated before starting tattooing. She can draw anything from a picture or from an idea.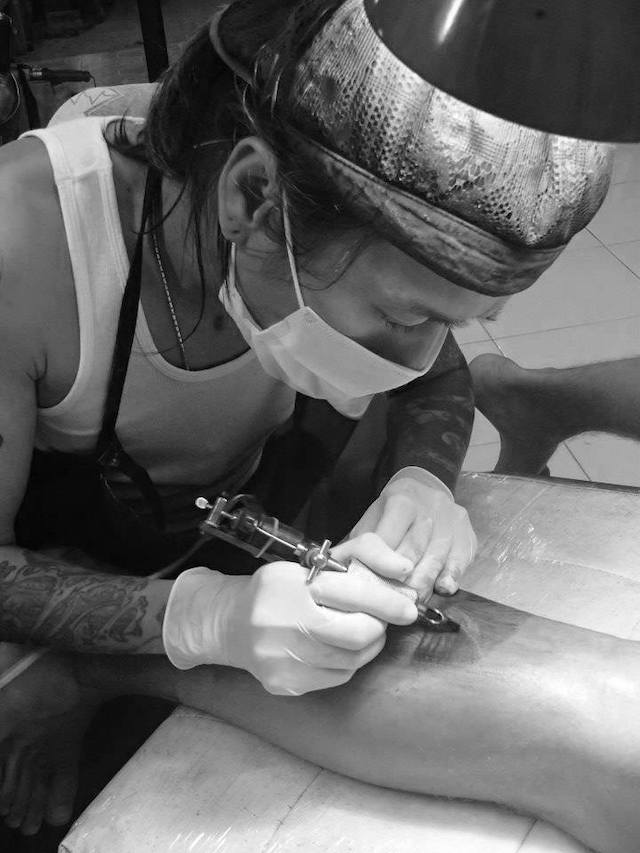 - Danny is located on Lonely beach and can tattoo anything you want. Getting a time during the high season may be difficult, you need to be patient or to contact him early enough.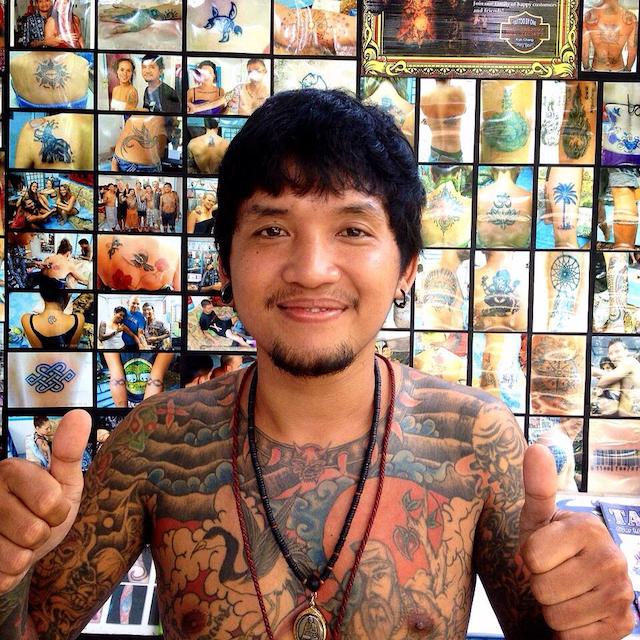 - King Bamboo Tattoo is located in the small village of Klong Kloi in Bang Bao. He is an expert in traditional Thai bamboo tattooing. Also opened all the year and very friendly like that other one mentioned above.
bamboo Tattooing takes more time than machine tattooing, plan in advance what you want and when you can get it done.