Kai Bae Beach Resort
Kai Bae Beach Resort is located in the south part of Kai Bae, directly on the beach. 
It's at less than 5 minutes walk from Kai Bae village where you can find lots of shops, drugstores, restaurants, pubs, and supermarkets.
If you have a vehicle, the resort has free private parking.
This is a good place for family holidays!
The location is excellent if you just want to spend your days at the beach. You can go between your bungalow, the bar, the pool, and the beach without being worried about anything except to be sure to be protected against the sun.
Evening sunset is stunning!
Kai Bae Beach Resort has 67 different rooms spread in their garden. There are 35 individual bungalows and 32 "hotel" style rooms which are in a common building.
The rooms and bungalows are divided into different categories: the Beach Front Bungalows, the Villas, the Garden View Bungalows and the Sea View rooms.
All of them have a private balcony, a private shower with hot water, a TV, a refrigerator, and a safety box. And some bungalows have a small terrace on their roof.
The Garden View bungalows have only a fan while all the others have individual air conditioning.
Some of the rooms and bungalows have one double-size bed, 2 double beds, or twin beds. Just look at their webpage or contact them for more information.
Bungalows with 2 double-size beds can host up to 4 persons.
The Villas are the newest buildings and then the most modern.
All rooms have free Wi-Fi internet access which is also available anywhere else inside the resort.
The good thing is that a child under 10 years old who shares the room with his parents without adding an extra bed is free of charge.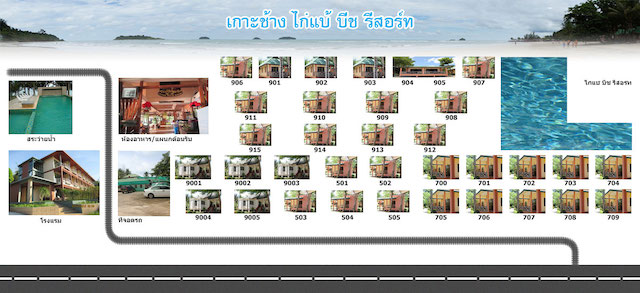 Here are the Garden View Bungalows which have been renovated in June-July 2016:
Their Thai and American breakfast is also included in the room rates.
If you want to swim you have 2 choices, the sea which is a few meters from the Beach Front bungalows or the 105 square meters swimming pool which is also a few meters from the beach. Their bar is opened daily and one of the best combinations is to enjoy their delicious cocktails at the pool.
Their restaurant is just fabulous. They prepare and serve fresh fish and seafood but if you want a burger, French fries, or any other western food you will be surprised by the quality.
And they also provide room service if some day you feel lazy and prefer to have your lunch or dinner in your room or bungalow.
If you want to explore the surroundings by the sea or to go to Ko Man Nai which is the closest island and the one you can see from the resort, then you can rent one of the kayaks they have for their guests. It's 100 THB per hour and you can find your own snorkelling spot, away from the tour boats.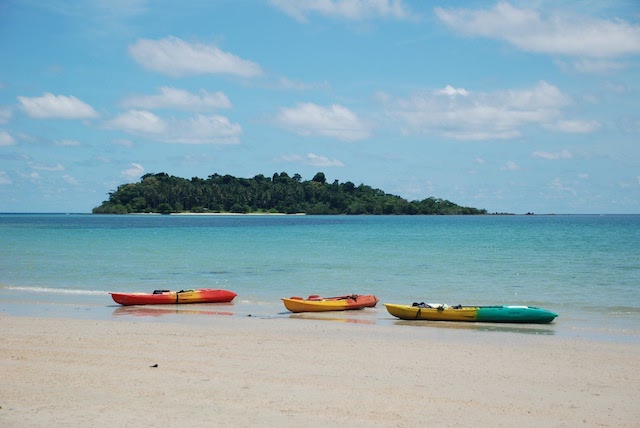 And finally, you can sometimes see the young elephants doing their morning or evening walk with their mahout. It's the attraction of this beach, children but also adults love them!
And if you are planning to get married or to spend your honeymoon in Kai Bae Beach Resort, just contact them before your booking, they can arrange everything for you.