Koh Kood
Koh Kood, also written "Ko Kut", is smaller than Koh Chang and it's also completely different.
The island doesn't belong to the National Park, which means you will never have to pay extra National Park fees.
Koh Kood is extremely quiet, with no nightlife or full moon parties, nothing, just nature, and nature. No elephant camps, no jungle treks, no noisy cars, nothing, almost nothing!
First of all, you will be surprised by the good quality of the roads and by the road signs and markings. If you want to visit the island, rent a scooter or book in advance private transport. While riding on the island you will understand how quiet it is. There isn't a lot of vehicles. 
Beaches are also extremely quiet. White sand and crystal clear water.
There aren't so many resorts on the island compared to Koh Chang and then fewer tourists.
There are 2 ways to go to Koh Kood, by boat or if you have enough money to rent a small private plane. There is a very small "airport" on Ko Mai Si, a small island on the north-west of Koh Kood. In fact, it's more an air track than an airport. This is the way celebrities come to Koh Kood. And if celebrities go there for their holidays you can imagine the reason; there is nobody to bother them.
If you come from Koh Chang or Koh Mak, you can take Bang Bao or Kai Bai Speedboats. From the mainland, you have the choice between a private speedboat or the different fast ferries. It will take about one and half hours from Koh Chang and about 45 minutes from the mainland. It's also cheaper from the mainland.
When I go to Koh Kood, it's to relax and for me, one of my favourites resorts is Shantaa: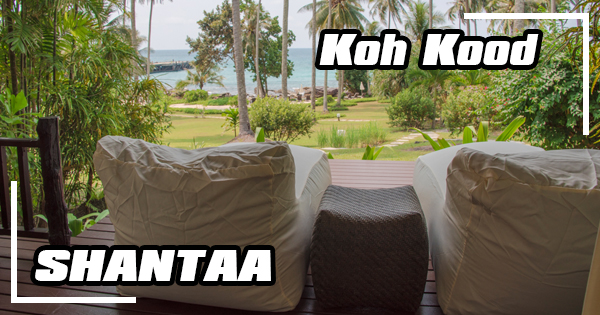 (Discover Shantaa Koh Kood!)