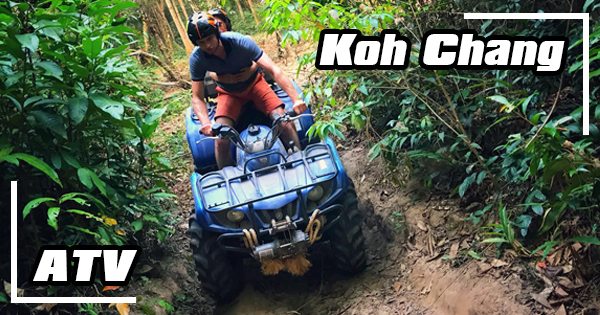 ATV stands for All-Terrain Vehicle also called a quad, quad bike, three or four-wheeler, or even quad cycle. You got it, it's motorsport which can be done on Koh Chang.
You can rent quads on the island but they are not legally allowed on public roads. But it's possible to have ATV tours with a guide and a professional biker.
In Chai Chet there is a small ATV tour business with few tracks around but their quads are quite old and very often not working.
ATV Monster Adventure is the place on the island where you have to go if you want to enjoy a 60 or 90 minutes tour in the jungle.
They are located in Klong Prao, behind Baan Chang Thai elephant camp, on the road to Klong Prao School and it's managed by Nara, a quad stunt rider and a motorsport enthusiast.
They have different types of tours, from 60 to 90 minutes at different times of the day and the jungle sunset with a return in the dark. During the tour, you can make a stop to swim in the river and if you are lucky you will swim with elephants.
They are using 350 and 700cc quads with 2 seats. You can drive alone or take a passenger with you.
They have their own track if you don't want to explore the jungle. It's also a good place to practice before starting something more serious.
The jungle tour is the most interesting, especially if it has been raining before. There are small technical parts but nothing too difficult and you will have fun.
As you can guess from its name, the Sunset tour will end in the dark, after sunset. You will enjoy the beautiful colourful sky from the mountains, over the jungle. You will go back to the camp with the lights on.
For more information:
- Facebook pages: www.facebook.com/ATVmosteradventurebynara/ and www.facebook.com/Monster-Adventure-Koh-Chang-by-Nara-1391575811169878/
- Website: none
- Email: This email address is being protected from spambots. You need JavaScript enabled to view it.
Pictures credit: ATV Monster Adventure