Baan Rim Nam Guesthouse
Baan Rim Nam which means in Thai "House on the Water" is a hidden gem located in Klong Prao, right on the quiet estuary river, away from the hustle and bustle.
Baan Rim Nam has been awarded by a lot of travel agencies for several years, and it has been featured in numerous newspapers and magazines.
This old fisherman's house has an interesting story (links at the end of the review), it has been the big project of Ian and his partner Mam who decided to renovate it, to extend it, and to make it a friend's house instead of a soulless resort.
The guesthouse is located at 15-20 minutes' walk from the main road where you can find all kinds of shops, pubs and small supermarkets and from where you can also catch a taxi. It's also at a few kayak paddles from the restaurants. But if you don't want to walk, Mam or Ian can also call you a taxi which will come to pick you up.
And the quietest part of the west coast beach which never gets crowded is at 2 minutes walk or 3 minutes kayak paddles.
| | |
| --- | --- |
| | |
No swimming pool, no international TV channels, no TV at all, no restaurant, no room service but an amazing tranquillity, a beautiful location, and two lovely hosts who are really taking care of their guests. If you like relaxation and want to empty your mind, this place is priceless!
 In addition to knowing everything about Koh Chang and being very friendly, Ian is also famous for his website (www.iamkohchang.com) and his numerous posts on different social networks. Don't be scared to ask him advice, what to do, where to go, he will give you the best tips that lots of residents don't even know.
Once you have reached the entrance, the wooden footbridge will bring you through the mangroves to the house.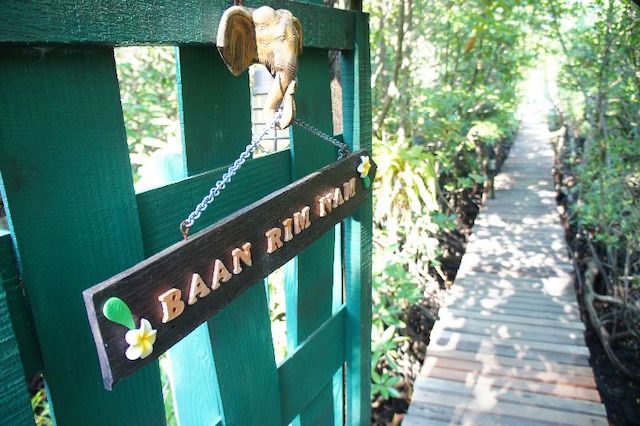 There are 5, simple, tastefully decorated, ensuite, air-conditioned double rooms in two adjacent houses divided into 3 types:
- 3 Original Rooms, adjacent to the main house.
- 1 Family/VIP Room, with a double and a single bed and with plenty of space for another single bed if needed. Plus a large covered outdoor deck with sofa, table floor cushions to lounge around on.
- 1 Budget Room, the same style as the other rooms but cheaper as a bit smaller than the Original rooms and doesn't have a view of the river.
They all have a bathroom with a sink, toilet, and shower with hot water.
The rooms open out onto two private decks, one where you can sunbathe and one covered built out over the water with lots of seating.
There is free Wi-Fi in the rooms and on the deck at the front of the house.
In the evening it's usually very quiet, with no bright lights, no bars, no traffic noise and the only sounds that you can hear are the cicadas, vocal frogs, and the occasional canoe tour paddling to see the nearby fireflies which inhabit the mangroves upstream. It's also one of the few places on the island where you can be woken up by bird songs at sunrise. 
| | |
| --- | --- |
| | |
There is no restaurant in the guesthouse but on the opposite side of the river, there are good ones (Pu-Talay, Iyara Seafood, Moleys) where you can take your breakfast, lunch, and dinner. Some of them will pick you up from Baan Rim Nam by an old wooden, Thai style gondola or you will need to use the free kayak to paddle there.
The breakfast is not included in the room's rate and it's quite simple, fresh coffee or tea, fruit juice, cornflakes/muesli, and toast. You can also take your breakfast outside (at Moleys for example) or eat in your room your own food bought at the supermarket.
They also have a "serve yourself" fridge from where you can buy beers and all kinds of soft refreshments, but if you want you can also store your own drinks.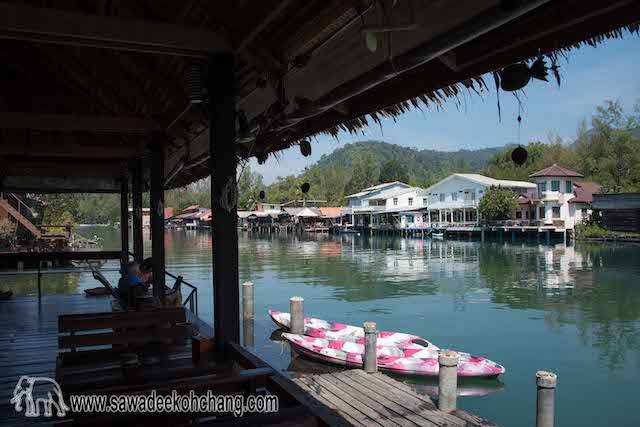 There are NO additional taxes or surcharges, no price increases over public holidays, and the payment is made in cash only (Thai baht) and in full on departure. No need to pay in advance or to leave a deposit.
All kinds of activities can be booked from the guesthouse, just ask the hosts they will help you and recommend what you are looking for.
If you are looking for a quiet place, different from big resorts and hotel rooms, where the hosts are more interested in your well-being than in your money and if you don't mind not having a TV, to walk 2 minutes to reach a very quiet beach, to be obliged to paddle for the lunch or dinner, to have a private sundeck and to watch a slow-moving river instead of beach vendors or a noisy road then think about Baan Rim Nam!
As you can see from the picture above, there is no fancy swimming pool but a clean river where you can swim too.
- Webpage: http://iamkohchang.com/kohchang-guest-house
- Facebook page: https://www.facebook.com/iamkohchang
- Email: This email address is being protected from spambots. You need JavaScript enabled to view it.