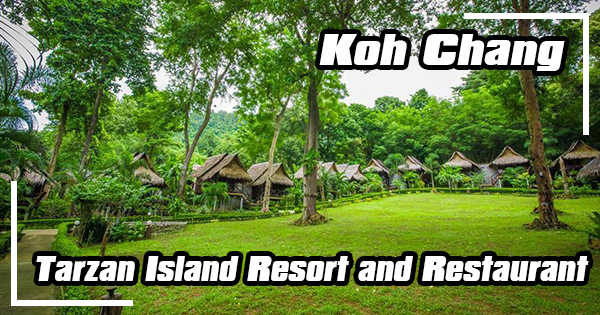 Tarzan Island Resort & Restaurant is a Thai family business located in Bailan village, on the jungle side, at only 3 minutes drive from the active Lonely Beach and 10 minutes from Bang Bao. It's perfect if you want to rest in a quiet place and still want to find parties nearby.
It takes only 5 minutes to walk to Lisca beach or to the Treetop Adventure Park.
The first thing you will see when you will arrive at Tarzan Island Resort and Restaurant is their big wooden restaurant. And right behind the restaurant, a walking path is heading uphill to their garden and bungalows.
They have a big tropical and clean garden with hammocks all around. They take big care of their garden which is all the time green and regularly shaped.
All the bungalows are located all around this garden. No matter in which one you will stay, you'll have the pleasure to enjoy a nice and peaceful garden view from your private balcony.
They have 30 identical wooden bungalows which all have a traditional Thai style. They all have a big private balcony with a wooden bench, table, and seats to hang out during the day when the sun is burning too hard.
They are all equipped with a queen-size bed, wooden furniture to store your stuff, a coat hanger, and a fan. You can also have an a/c if you want better comfort. This option is included during the peak season, otherwise, it's an extra.
Rooms are very luminous, with lots of windows on each side. Each bungalow has its own bathroom with a western toilet, hot shower, a sink, and a mirror.
Free Wi-Fi is only available at their restaurant, not inside the bungalows.
And for families or groups of friends, they have these 2 bungalows connected by a common bathroom.
The breakfast is not included in the price of the bungalow but you can get it at their restaurant which is proposing 3 different formulas for 180 baths (American, Thai, or Muesli breakfast).
The restaurant serves mostly Thai food but they also propose Western dishes such as the famous club sandwich, burgers, cordon bleu, or pasta. And if you don't stay at the resort you can always have your breakfast, lunch, dinner, snacks, or enjoy a fresh beer or why not a fresh fruit shake which is very tasty.
During the high season, they have live Blues music. The band is performing on their stage every day from 19.00 to 22.00. It attracts lots of people. There is a really nice atmosphere, you have to go and see.
About the activities, they can organise for you everything you need, such as massages, booking all types of tour but also the ferry tickets, speedboat, transfer, motorbikes rental, laundry, etc. Just ask the reception, they will help you with pleasure.
If you have a vehicle, there is a free parking area for cars in front of the restaurant, and for motorbikes on the side of the building.
This Thai family is taking big importance to their guests and they try to make you feel like in your home. At the end of your stay, you will maybe even feel like a member of their family.