Best Western Premier Amaranth Suvarnabhumi Airport
Best Western Premier Amaranth Suvarnabhumi Airport is located in Lat Krabang, in the Krisana Bangna Village at about 15-20 minutes by car from Suvarnabhumi International Airport but this time may vary depending on the traffic.
Every 30 minutes and from 5 am to 2.30 am there are free shuttle transfers from and to the airport.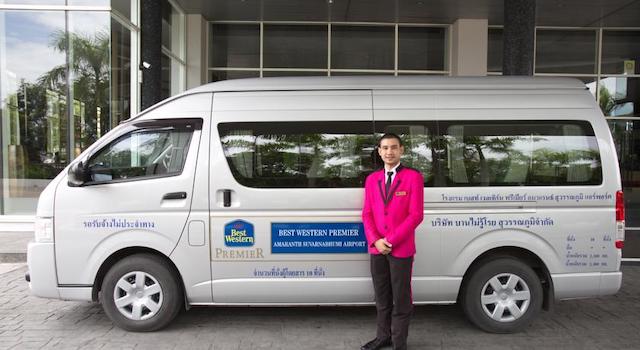 The hotel is just nearby the "busy" King Kaeo Road but it's quiet and you barely listen to the road noise inside the rooms. If your room is on the airport side, you will not notice the noise of the planes, like the loud trucks if you are near the road. It depends on how sensitive to the noise you are. Personally, all the time I have stayed in this hotel I didn't pay attention to anything and I really slept very well. And I'm not the type of person to sleep easily.
The surrounding has nothing special or attractive, on one side it looks like an industrial environment with a lot of old buildings, and on the other side, small rusty-roof houses and backwater.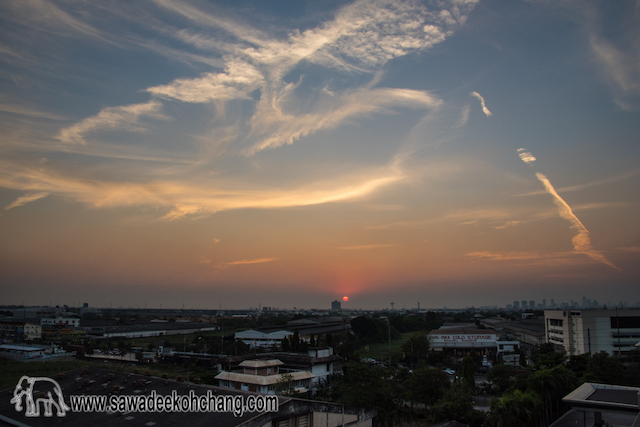 There are 278 rooms and suites in this hotel, spread on 7 floors. All rooms have a/c, a minibar, LCD TV with international channels, a desk, a safety box, a bathroom with bathtub and shower, and a toilet in the bathroom. I have tried their Premier Rooms which are located on the 7th and last floor.
They are a bit more expensive than the Deluxe rooms, the more spacious but the balcony is smaller, just enough space to stand up, don't plan to install a chair. You get extra privileges that in my opinion are not so interesting like what are proposing other hotels:
- Welcome fruits on arrival
- Late check-out up to 4.00 pm
- Coffee, tea, and non-alcoholic drink during the day with pastry and fresh fruit ( from 7 am to 10 pm) at the Premier Lounge. (Personally, I found it very basic compared to what is proposing Novotel Bangkok Suvarnabhumi Airport for their Executive rooms)
- Daily free beverages in your room's minibar (water, Perrier, soda, juices, and even beer). This is interesting. In this kind of airport hotel, minibar drinks are normally over-charged and sometimes prices are multiplied by 7 or 8.
- 2 pieces per person of laundry service per day for free.
- Free Shoe Shine Service
- 10%  discount at the restaurant
- 10% discount for the Spa treatments

They have a good restaurant, Bua Chomp Restaurant which is opened 24-hour daily. They have very good Thai dishes on their menu but they also serve Western food. The breakfast is served in this restaurant and it's complete with a large choice of products, Asian and continental.
In Best Western Premier Amaranth there are a small Spa and a small Fitness Center which are accessible from the outside of the building. It's a good way to visit their small garden with lots of clean water ponds, plants, and seats to relax in the daytime if it's not too sunny otherwise you will burn, it's too hot, especially with the sun reflecting the white walls of the building. And in the evening there are too many mosquitoes in my opinion.
The Fitness Center is quite small but enough to spend calories. They supply clean towels and drinking water.
There are a couple of treadmills, cross-trainers, and bikes as well as 4 work-out machines, 2 benches, and barbells.  
| | |
| --- | --- |
| | |
The nice swimming pool is outside and on the side of the building. You walk through the small garden to reach it or take the lift with is at the end of the room's corridor. There is a sauna but I'm not sure it's operational, I've never seen it working.
The swimming pool itself is big enough with a kid's area. It's surrounded by small trees to keep small privacy from outside. There are wooden sunbeds and you get free and clean towels at the bar. Yes, there is a bar at the pool. It's closing quite early in the evening, no drinks when it starts to become dark, the bar will be closed. They serve different types of warm and cold snacks as well as any drinks and cocktails.
Because of the surrounding (backwaters) and all the ponds in the garden, there are lots of mosquitoes, especially in the evening and at night. So do not plan to spend your evening on your room's balcony, it will become uncomfortable very fast.
I've never seen mosquitoes inside the bedrooms, except if you decide to leave the balcony doors wide opened and all the lights on. Otherwise in the lobby and outside, just use a mosquito's repellent, they work very well.
This hotel is very good if you want to spend a night or two before leaving Thailand. It's easy to access, not too far from the airport, rooms, food, and services are very good and it's a bit cheaper than others which are closer to the airport.
- Website: www.amaranthhotel.com
- Facebook page: www.facebook.com/BestWesternPremierAmaranth
- Email: This email address is being protected from spambots. You need JavaScript enabled to view it.
- Phone:  +66 2 315 9393