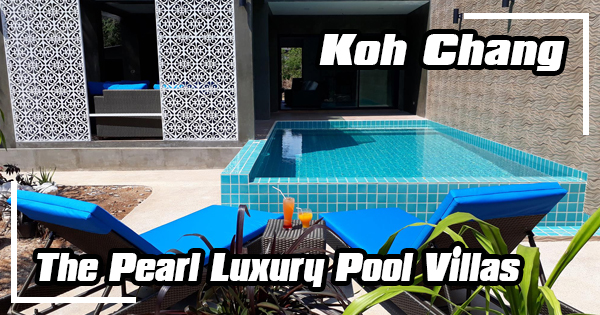 The Pearl Luxury Pool Villas is one of my favourite places on Koh Chang and I really recommend it.
It's a set of 2 double-villas located in Pearl Beach, in a quiet area and away from the main road. This new and modern construction includes 4 villas which all have their own private swimming pool and private garden.
There is enough sleeping for 6 adults which makes them perfect for families or groups of friends. On top of that, there is the possibility to open the door in the garden to join both villas which are even better if you want to rent 2 villas at the same time. In normal condition, this door is locked.
The reception is located at the corner of the main road, near the Post Office, you can't miss it, and it's 200 meters away from Big C supermarket where you can find all the food you need.
For now, there is a total of 4 villas but new ones are coming soon.
If you have a vehicle, you can park cars in front of the building or inside the garden for 2-wheels.
When you enter the villa, you arrive directly in the kitchenette and living room.
The kitchenette is fully equipped with a large fridge and freezer, a microwave oven, a kettle, a toaster, and all the kitchenware to cook and eat.
In the living-room area, there are 2 sofas, one of which can be converted to a double-size bed and a large LCD TV with cable channels and free Netflix access. There is an individual a/c for all these areas.
And still on the first floor, near the entrance door, there is a bathroom with a toilet, a sink, and a shower with hot and cold water.
On the second floor, there are 2 spacious bedrooms with 2 bathrooms.
In each bedroom, there is an individual a/c, an LCD TV with cable channels and free access to Netflix, a double-size bed, a wardrobe with a safe and a large bathroom with a sink, a shower with cold and hot water, and a toilet.
Both bedrooms have their own balcony with outdoor furniture and one of them is bigger with 2 sun loungers.
You understood, 4 adults can sleep on the second floor and if you convert the sofa, 2 more adults can sleep downstairs. But outside and under the balconies, there is a big terrace with a dining table, chairs, and big sofas where it feels very good to take a nap in the afternoon. I know what I'm talking about, I've tried them. And if some of your friends are visiting you, there is still a place for them for a temporary overnight stay.
The swimming pool is the gem of this place because it's just for you, deep enough to jump and there is no time limit to use it. When it becomes dark, just switch on the lights and you can have your midnight bath. So each villa has its own pool with an outdoor shower and an extra table, chairs, and sun loungers in the garden if you prefer to enjoy the sun.
Free Wi-Fi is available everywhere inside the villas.
You may be disappointed because there is no beachfront or Pearl Beach which is at 2 minutes walk is not a sandy beach as you have maybe dreamed about but you can be sure there won't be any jellyfish in your swimming pool and you won't get any sandfly bites which can spoil your holidays.
Instead of having a sandy beachfront, you have your own private and quiet tropical garden.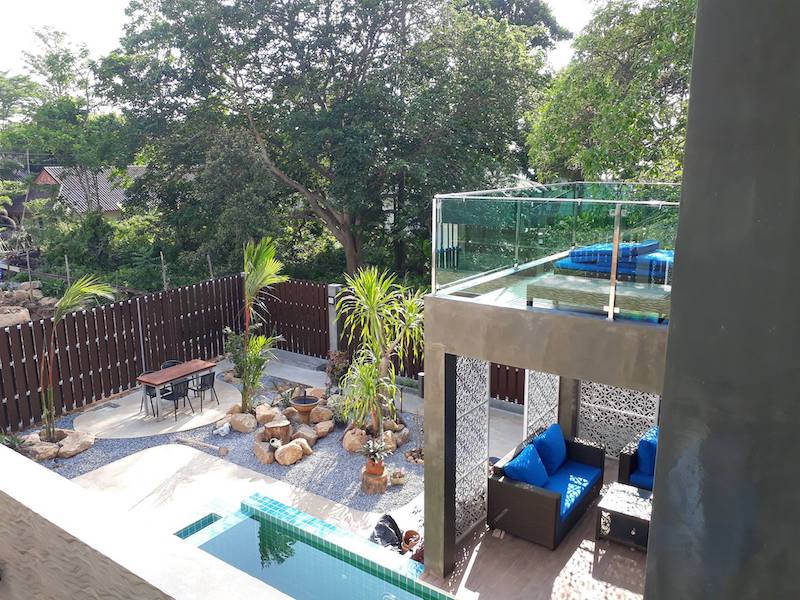 I keep the best for the end and it's for me one of the nicest parts of this place.
The owners who are living in the same street are super nice and extremely helpful. They can help you to book any trip or attraction, they know the island very well, they can advise you about everything on the island but also in Thailand. If you don't have a vehicle but want to spend your day on a sandy beach, no problem, if they are available, they can even bring you by car to White Sand Beach or Chai Chet. Believe me, you won't be disappointed.
To end this review, here is a video made just before the opening: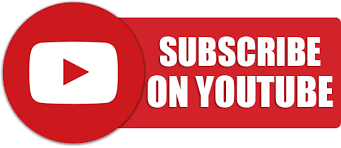 If you want to book 2 joined villas and have the garden door opened, contact the owners before to be sure both villas will be available at the same time. 
Book on Airbnb:
Villa 1: https://www.airbnb.com/rooms/32676805
Villa 2: https://www.airbnb.com/rooms/32700911
- Facebook page: www.facebook.com/ThePearlLuxuryPoolVillas/
- Website: www.thepearlkohchang.com/
- Email: This email address is being protected from spambots. You need JavaScript enabled to view it.
- Phone:  +66 81 919 8219