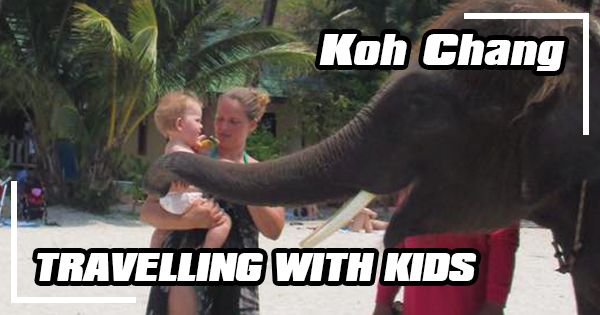 If you are travelling with babies or young kids you are maybe wondering if Koh Chang is the right destination.
Koh Chang is a perfect family destination. Koh Chang is not a party island, there are no fun parks but the quiet beaches and safe environment makes Koh Chang an ideal place for families who just want to relax and have quality time with their children.
You will notice that Thai people love children and babies, it won't be a problem for them to help you.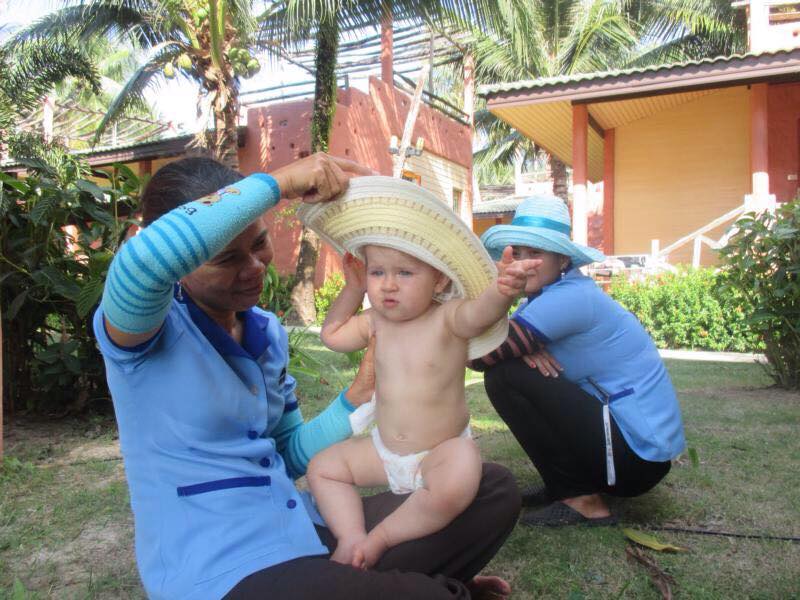 (Thank you Iris for the picture of Bohdi with her nannies)
Even if Thailand is a modern country breastfeeding should be done out of public view and as discreet as possible.
You can find all your baby essentials in many 7-11, Tesco Lotus, or V-Mart supermarkets as well as drugstores (Pharmacy or Apotheke).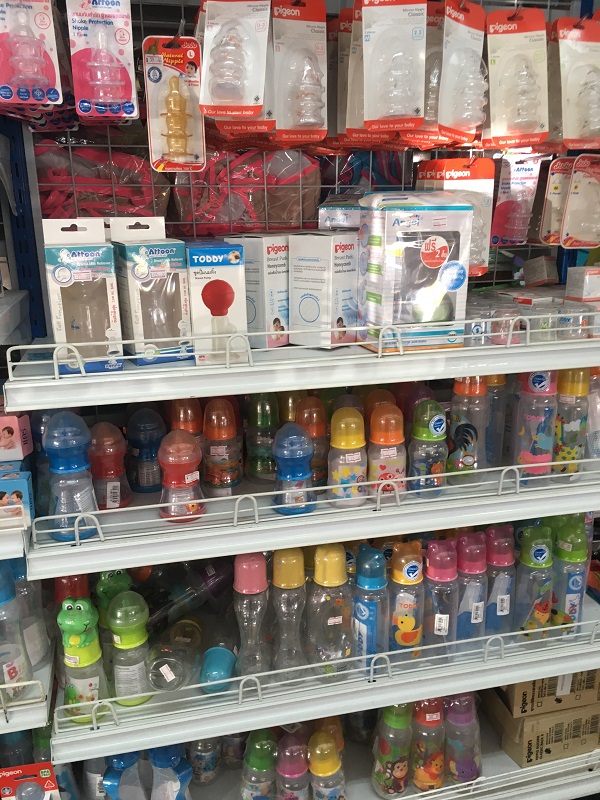 - Food
First of all, all supermarkets on Koh Chang are selling baby food.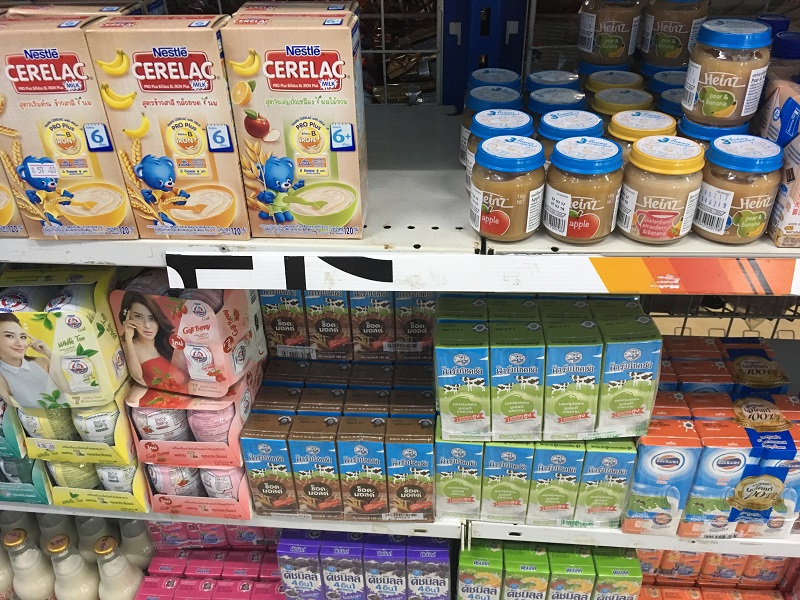 There are also lots of delicious fresh fruit without added chemicals or conservative which can be bought everywhere on the island.
Thai food is also very good and like you are on an island there are lots of fish and seafood.
You must know that seafood can cause bad stomach pain, diarrhea, and sometimes food poisoning if they are not fresh. If you have some doubts, avoid them, especially for your kids.
If your kids want to eat Thai food, ask to have it without spice.
But like most of the kids, they will prefer Western food and lots of restaurants are serving French fries, roasted chicken, and in most resorts, you will get milk, cereals, bread, boiled eggs, burgers, pizza, ketchup,... everything like home.
Restaurants allow you to bring your own baby food and they will even accept to warm them for you. If your child can't eat with adult cutlery, it's better to bring your own baby or kid's fork and spoon.
- Diapers:
Like baby food, in the same supermarkets, you can find nappies, from different brands, and sizes.
They also sell moisture wipes, lotion, shampoo,... And if you don't find it in supermarkets, look at the drugstores.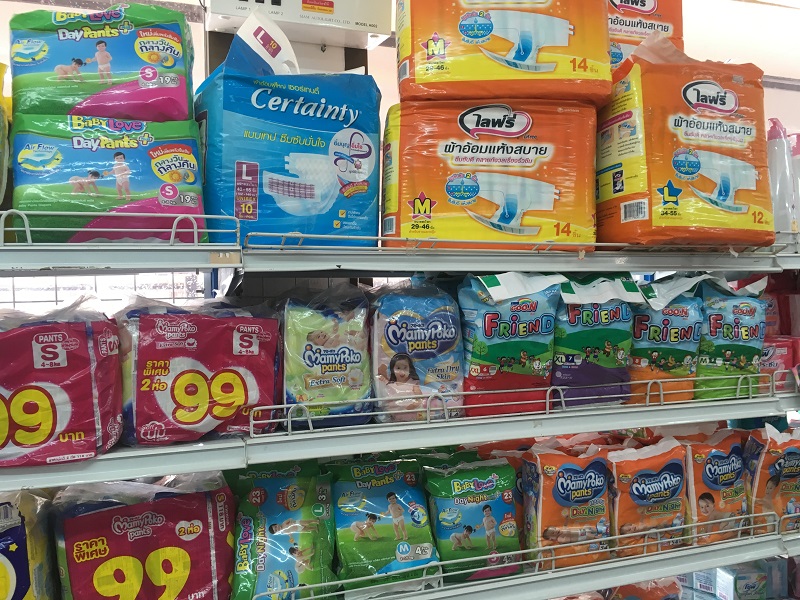 - Water:
For your kids, use only sealed bottles of water and don't let them drink tap water.
Big resorts have their own water cleaning system, the same water they use to make the ice cubes you have in your cocktails. There is no risk to brushing your teeth with this tab of water but prefer to drink it from sealed bottles.
It's also common to have one or 2 free small bottles of water per day and per room. And if you have a kettle in your room you can easily boil the water if you are not sure about its quality.
In the supermarkets, you can find different brands of water. If you don't know which one to buy then have a look at the following video, there is an interesting test.
- Strollers and cots:
It's better that you bring your own stroller. Avoid the winter version, it will be too hot. If you can, bring a light one easy to carry.
Lots of hotels and resorts can install a cot in your room (free of charge or extra depending on places). They all don't have baby duvets and it would be better to bring your own.
- Babysitting:
If you need a babysitter, just ask the reception of your hotel or resort, they will find somebody for you.
For example, The Emerald Cove Koh Chang Resort is proposing a babysitting service to their guests.
- Sun Protection:
Remember that on Koh Chang the sunburns and sometimes very badly. Even if the sky is cloudy you can burn in a few minutes.
You can find many brands of sun blockers and after sun lotion on Koh Chang (in supermarkets and drugstores).
On your baby, kids, and even yourself be sure your skin is well protected.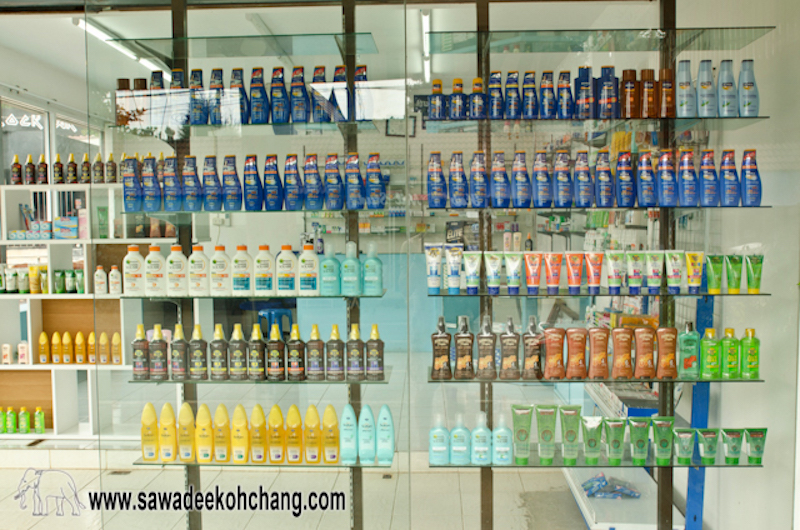 Keep your baby and child under the shadow and don't forget to hydrate them often.
- Health:
There is good medical care on Koh Chang and if your baby or child is becoming sick, don't wait, ask to go to see a doctor.
Doctors speak well English.
There are drugstores everywhere on the island, sometimes several in the same street. You can find lots of medications, even without a doctor's prescription and they also speak English.
Be sure to have the necessary vaccinations before leaving your country and also good travel insurance. Private medical care is very expensive.
I haven't heard about Malaysia on the island but there have been some cases of Dengue fever on Koh Chang.
You can find good mosquito repellents in supermarkets and drugstores, they sell the same products but are cheaper in supermarkets. Sprays or roll-on are more efficient than bracelets.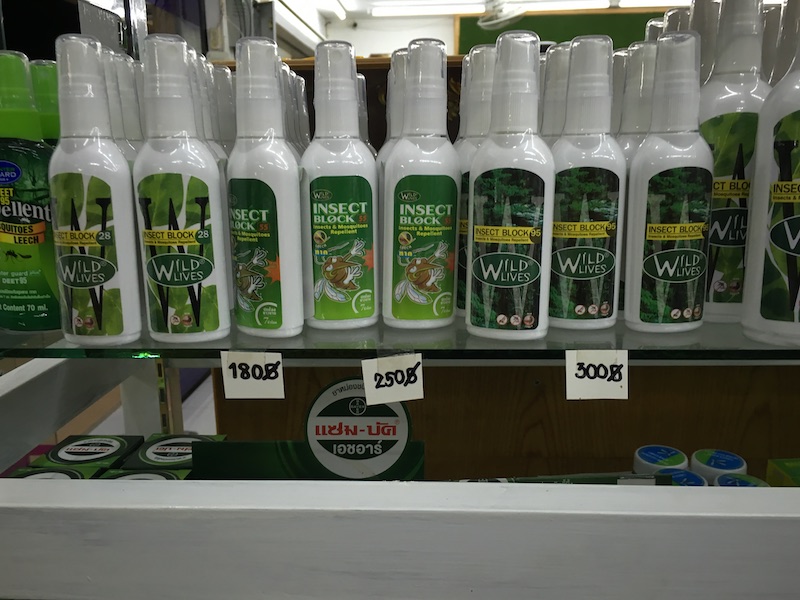 Usually, mosquitoes will bite you in the evening or if you go to the forest. Wear long sleeves and pants when you go out after the sunset and spray your legs, feet, ankles, arms, and neck with a repellent.
In the daytime and if you are on the beach, you may be beaten by sandflies. Some people attract them more than others. A good repellent is coconut oil that you can find everywhere. Apply coconut oil on your body, it's also good for your skin and it smells good.
Sandflies bites are itchy. Some people succeed to stop the itch (same with mosquito bites) with Tiger Balm applied on the bites. You can also find Tiger Balm everywhere on the island.
If Tiger Balm doesn't help, go to the drugstore they will give you an antihistamine.
There are stray dogs on the island, you never know how they will react and it's better to not let your kids play with them or try to touch them.
Rabies is present in Thailand but no case has been reported on Koh Chang.
Kids normally touch everything, it's good to all the time have antibacterial wipes with you. You can also find them in some supermarkets or drugstores.
To sterilise your baby's bottles, the best is to bring your own equipment. In Thailand the standard voltage is 220V, 50 Hz and the sockets may be different from your own country.
European plugs can be plugged into Thai sockets without an adapter but if you have a doubt you can bring your own international adapters. It's also possible to buy them at Koh Chang.
- Safety:
If you come to Koh Chang by car, ask before arriving to have a baby seat.
There are a lot of scooter accidents on Koh Chang. Thai roads are not the safest in the world.
If you decide to rent a scooter, be extremely careful and don't follow the Thai way, all the family on the same scooter, you may regret it.
Roads are also slippery when it's raining.
Songthaew, the pickup or truck taxis that are on Koh Chang are far safer than a scooter and more convenient when you travel with a baby.
Make sure you have a travel insurance which will cover your whole costs.
An accident can happen to anybody and at any time and if you need to go to the private clinic or to Trat hospital it will cost a lot.
There are no medical copters on the island if something bad happens by night and the clinic can't help you, you will need to go to Trat hospital and they will charge you the ambulance and a private boat to the mainland. That's why it's better to know in advance what will or will not cover your insurance in case of a problem and avoid bad surprises when you will get the bill.