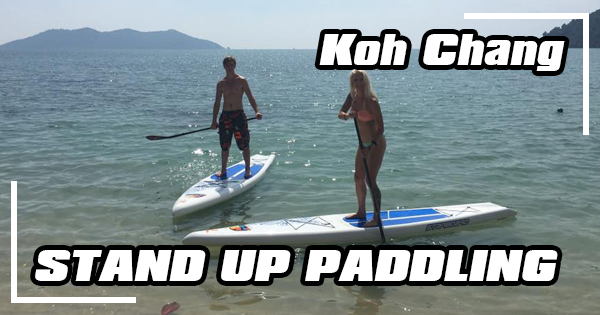 Stand-up paddleboarding or Stand up paddle surfing, also called SUP, is becoming popular everywhere and of course in Koh Chang too. Any type of water can become a playground for standup boarders and for a couple of years you can find more boards all around the island.
SUP can be compared to Kayaking except it requires more balancing which is also the fun part of this sport.
There is no age limit, even the youngest can enjoy it, sitting on the front of the board while their parents are paddling.
You can paddleboard on the sea, explore the small islands nearby Koh Chang, but it's also a good way to discover the different bays, rivers, and mangrove with flat water.
When the monsoon starts, the sea becomes rougher, and for the experts, Standup paddle surfing will be more interesting.
Beachfront resorts like Amber Sands Beach Resort, Chang Park Resort, or Blue Lagoon Resort for example have their own SUP boards available for their guests.
However, there are places where you can rent SUP boards.
SUP Station is located on Klong Prao estuary. The estuary is very calm and it's a nice area to discover on a board. You can paddle to the small mangrove and if you continue and for an extra, you can bathe with elephants.
They have lots of boards and they can organise SUP Group activities supervised by an instructor. And if you want to have fun, why not try their SUP-Starship? A giant board for multi-paddlers.
Facebook page: www.facebook.com/supstationkohchang/
Email: This email address is being protected from spambots. You need JavaScript enabled to view it.
SUP Adventure Asia is located on Klong Kloi beach, in the bay of Bang Bao. This beach is very quiet and the flat water has the perfect conditions for SUP boarders. 
Facebook page: www.facebook.com/Supadventureasia-224777597941038/
BB Beach which is also located on Klong Kloi beach, just next to SUP Adventure Asia is arranging SUP Yoga classes. A way to gain strength and flexibility is required to maintain the balance and postures on the board.
Facebook page: www.facebook.com/bbdiversbeach/