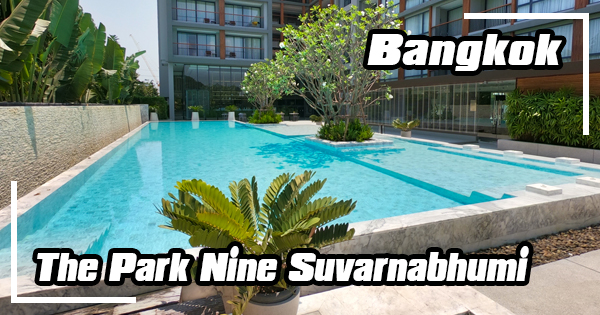 The Park Nine Suvarnabhumi is a hotel and a serviced residence located in Lat Krabang and 15 minutes from Suvarnabhumi Airport (depending on the traffic).
It's one of my favourite airport hotels because of its location which is near the airport, the services they offer, the prices of the rooms and it's quiet even if it's on Lat Krabang road. They have 24-hour reception, the staff is friendly and very helpful and they provide a free airport shutter, every 2 hours and starting at 6.00 in the morning until 22.00.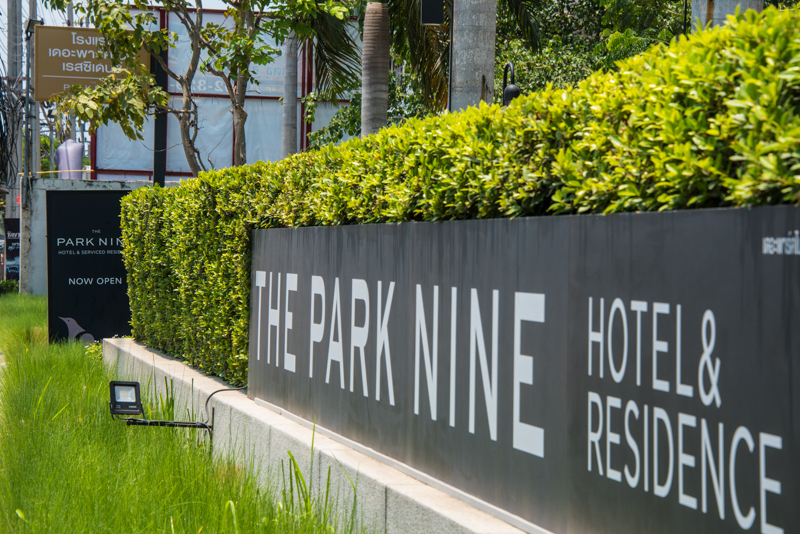 It's a new and modern hotel with a touch of luxury. They opened it in 2018 and they are planning to extend it in the following years. In 2020 there should be a shopping mall just on the opposite side which can be very convenient. Meanwhile, at 600 meters away, about 8 minutes walk, there is Lanbun Market with a 7-11 supermarket and street food stalls every evening. And 300 metres behind the market, over Prawet Burirom canal there is Wat Lan Boon temple which is very beautiful and that you can visit for free
The temple is well known for its fish sanctuary. There are food and drink stalls, it's opened every day and if you can, I really recommend visiting it.
The Park Nine Suvarnabhumi offers 84 hotels rooms but also 32 studios, one or 2 bedrooms apartments for long-stay guests.
They have different types of hotel rooms, Superior, Deluxe and Executive rooms as well as Junior, 1 bedroom or 2 bedroom suites.
All rooms and suites have their own bathroom with bathtub and/or shower, bathrobes, slippers and hairdryer, air conditioning, twin beds or double bed, a kettle with tea and coffee facilities, a Smart TV with satellite channels, free small bottles of water, a minibar and a desk. They have stylish and modern decoration and are cleaned daily.
The Superior rooms are the smallest, the cheapest and the closest to the road. In the daytime, you will notice the traffic from the main road. But for one night, they are more than fine.
The Deluxe rooms are exactly like the Superior rooms, same location, a bit larger but they have their own private balcony.
The Executive rooms are the ones I all the time book and that I recommend. Their balcony is overlooking the rear of the building with a view of the swimming pool. They are quieter than the other rooms.
They are more spacious than the Deluxe rooms and in the bathroom, there are a bathtub and a shower.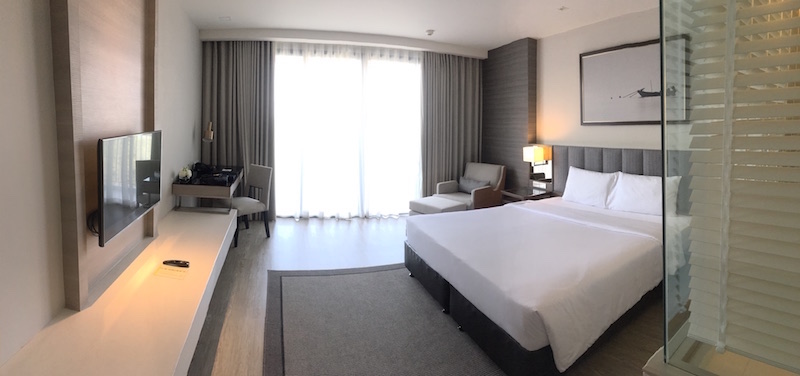 Then come the Suites.
They are more spacious than the rooms, all located on the residence wing, at the rear of the building with a view of the swimming pool. They have a spacious living area, one or 2 individual bedrooms, a living room, a fully equipped kitchenette with all the kitchenware you need, and a private balcony.
They also have a private and secured parking area if you have a vehicle.
There are several elevators to access the different rooms and suites. Don't worry about your luggage, their Concierge will take care of them and will bring them to you.
Free Wi-Fi is available in all bedrooms and suites but also everywhere inside and outside the hotel.
The breakfast is served at their restaurant and is made of different buffets. You have the choice between Asian or Western food, fresh bread and pastries, fresh fruits, yogurts, fresh fruit juices, and an egg station where you will get freshly cooked eggs and omelets.
Lunch and dinner are also served at their restaurant. They have a good choice of Thai but also International dishes. It wasn't ready during my last visit but they will soon open a sushi restaurant which is located at the entrance of the property, just facing the road. Shiso Sushi will serve authentic Japanese cuisine.
And on the opposite side of Shiso Sushi, there is Cuppers which is a Bakery and Coffee Shop.
If you don't have the mood to go to the restaurant, you can always enjoy some light meals, snacks, and drinks at the Lobby Lounge. It's opened until very late in the evening. It's a cosy and quiet place. They can even serve you at the pool which is just behind the window.
The swimming pool is the gem of this place. It's long, nothing to do with most of the hotels in this area, it features a Jacuzzi and a nice and peaceful terrace with sun loungers. The ambient music makes you forget the noise from the main road traffic and I really enjoyed resting in this area. The small canal nearby is very relaxing, you can see fishermen coming to lift their nets and birds hunting insects.

Nearby the swimming pool stands the Fitness Center and 2 saunas, one for men and one for women. Both have lockers.
The Fitness Center is modern and has enough equipment for holiday fitness. Free water and towels are available inside. The saunas are free of charge for the hotel or residence's guests, like the Fitness Center or swimming pool.
I really like this hotel, it has nothing to do with the big chains you can find around where I have also stayed. Here they really care about the comfort and comments from their guests. If you contact them, by email or Messenger, you will get an answer within 24 hours. If you have any complaints, they will do their best to solve the problem. And if you compare the price and quality of the services, it gets the first place in my recommendation list.
In most of the other airport hotels where I have stayed, one night was enough. In this one, I could stay longer, without being bored.