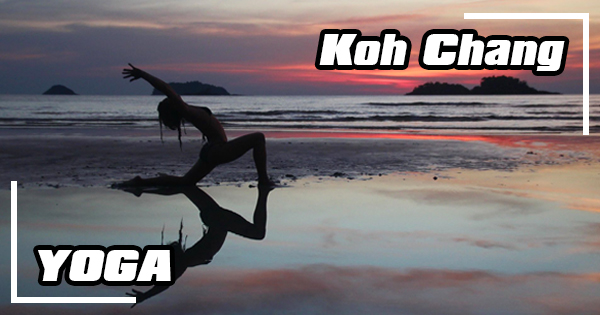 Yoga is a group of physical, mental, and spiritual practices or disciplines that originated in ancient India. There is a broad variety of yoga schools, practices, and goals in Hinduism, Buddhism, and Jainism. Among the most well-known types of yoga are Hatha yoga and Rāja yoga.
Even if Yoga is not a sport, I've decided to list it here.
On Koh Chang, there are a few places where you can practice Yoga. Classes are opened to beginners as well as experts.
Depending on the places, different styles of Yoga are proposed, Thai, Hatha, Kriya, Vinyasa, Nidra, Karma, Chakra, Acroyoga,.....
- Blue Lagoon Resort:
Located in Klong Prao, the classes are held on the wooden deck over the quiet lagoon and depending on the season two 90 minutes sessions are proposed, one at sunrise and one at sunset.
- Facebook page: www.facebook.com/yogabluelagoonresort
- Website: kohchang-bungalows-bluelagoon.com
- Email: This email address is being protected from spambots. You need JavaScript enabled to view it.
- BB Gym:
Located in Lonely Beach, they propose different styles of Yoga classes twice a day, in the morning and evening, depending also on the season.
- Facebook page: www.facebook.com/bbkohchanggym
- Website: kohchanggym.com
- Email: This email address is being protected from spambots. You need JavaScript enabled to view it.
- BB  Beach:
On the quiet beach of Klong Kloi and in the bay of Bang Bao, they propose yoga directly on the beach or on the water with their SUP Yoga classes.
- Facebook page: www.facebook.com/bbdiversbeach
- Website: www.bbdivers-koh-chang.com
- Email: This email address is being protected from spambots. You need JavaScript enabled to view it.
- The Spa Resort:
Located on the east coast of the island this is the only health & wellness spa resort on Koh Chang which is proposing yoga packages..
This resort offers complete Yoga classes, Meditation, and Detox retreats but also Yoga teacher training.
During the retreat, you will enjoy Thai yoga every day, meditation, detox sessions, and an herbal sauna. This quiet and natural part of the island is perfect to relax your mind and body.
- Facebook page: www.facebook.com/thespakohchangresort
- Website: www.thespakohchang.com
- Email: This email address is being protected from spambots. You need JavaScript enabled to view it.
- SUP Station Koh Chang:
They are located on Klong Prao estuary and they can propose SUP Yoga classes but also camp on several days with a complete program.
- Facebook page: www.facebook.com/supstationkohchang
- Email: This email address is being protected from spambots. You need JavaScript enabled to view it.
- The Emerald Cove Resort:
Located on the south end of Klong Prao Beach, they offer Yoga Classes to their guests during the high season.
- Facebook page: www.facebook.com/theemeraldcovekohchang
- Website: www.emeraldcovekohchang.com
- Email: This email address is being protected from spambots. You need JavaScript enabled to view it.
- Beach Jungle Hostel:
This new hostel is located in Lonely Beach. They propose different types of activities like Yoga.
- Facebook page: www.facebook.com/beachjunglehostel
- Email: This email address is being protected from spambots. You need JavaScript enabled to view it.