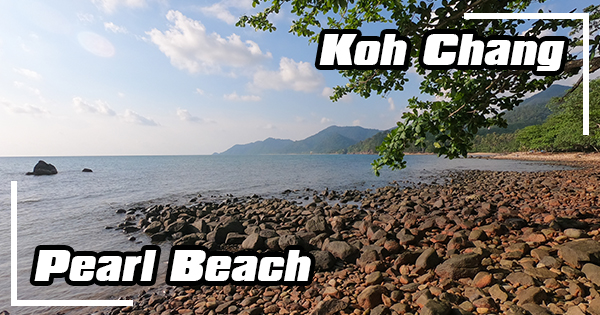 Also known as Hat Kai Mook, Pearl beach is located between White Sands beach and Chai Chet.
It's a small and very quiet rocky beach. Walking bare feet on the beach may be a bit difficult, better to wear shoes and avoid the sharp stones but it's a very good location to snorkel and watch reef fish and birds.
Because most people prefer sandy beaches to pebbles, this beach will never be crowded, even during the high season and it's at less than 5 minutes by taxi or motorbike from the busy and popular White Sand Beach or Klong Prao where rental prices are also higher.
Where to stay?
You can access this beach from the main road. Just take the street which is just nearby Koh Chang main Post Office and White Sand Publications Co. Ltd. from where you can also pick up your free Koh Chang Guide. At the end of the street, you will find the beach as well as small resorts with cheap bungalows.
There are Paradise Palms Resort, Penny's Resort, and Privilege Resort which have a beachfront. A bit further and still on the beach you also have Koh Chang Resortel with the longest swimming pool on the island, Inspiration Resort and Remark Cottage Resort with its beautiful tropical garden.
I recommend the excellent The Pearl Luxury Pool Villas which are located 100 meters from the beach in a quiet and relaxing area. Those 4 new villas have their own private swimming pool and garden, perfect for families or groups of friends. The owners are very friendly and helpful, you will feel like being at home.
On the hillside, there are lovely small resorts like T.P. Hut Bungalows or Macura Resort. Away from the main road, those places are extremely peaceful, the only noise you can listen to comes from the jungle.

On the main road, there are also a few good pubs and restaurants as well as a big 7/11 and the Big C supermarkets from where you can find all that you need.
A bit further and in the direction of White Sand Beach is the International Clinic which is modern and open 24/7. In case of an accident or bad disease, don't hesitate to visit it, they will provide you with the right treatment. Don't forget to subscribe to travelling insurance before your trip, medical costs in Thailand can be very high.
And on the opposite side of the International Clinic is the Thai Navy Shrine which is free to visit. On top of the stairs stands the memorial and a 180 degrees view of the Gulf of Thailand.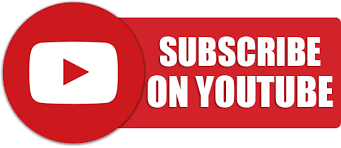 Best deals in Pearl Beach: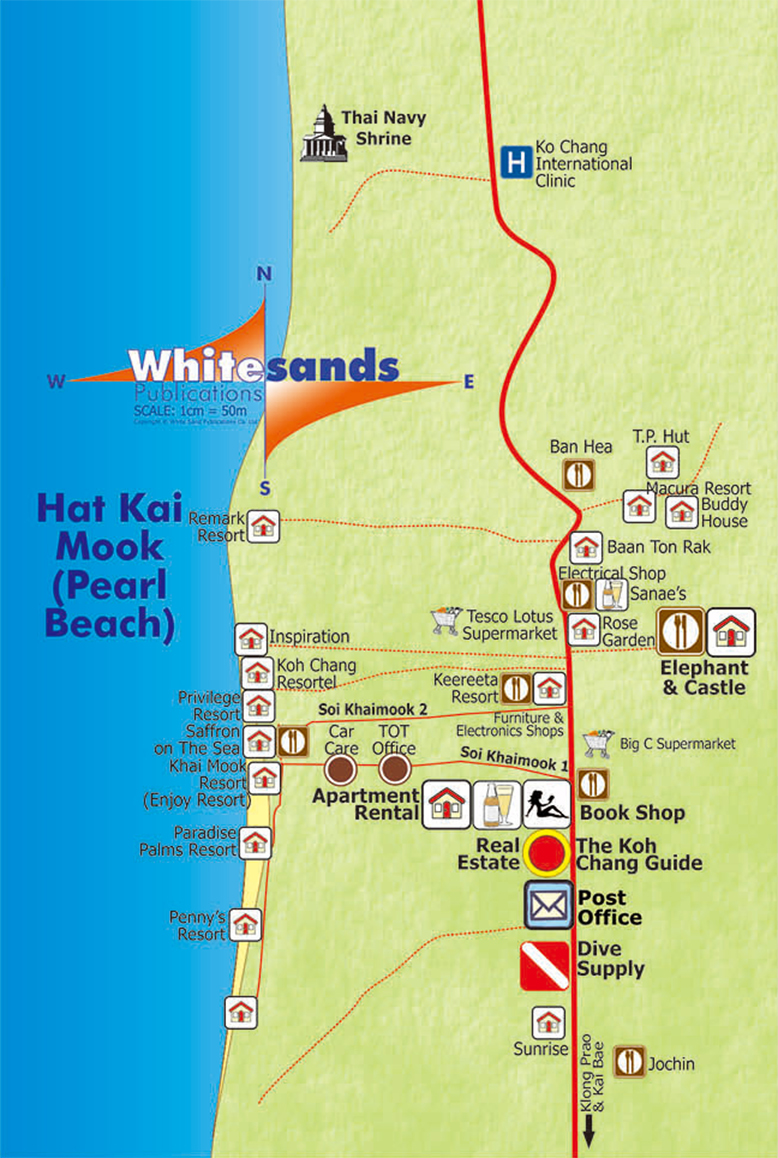 Copyright:
Please note this map is copyright 2001-13 White Sand Publications Co. Ltd. and may not be reproduced or published either in print or electronically without the express written permission of White Sand Publications Co. Ltd.