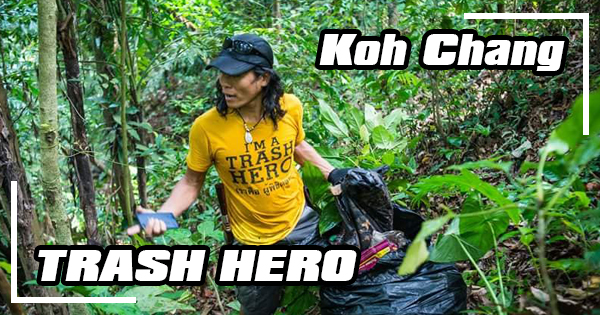 Just like everywhere else on the planet, Koh Chang is experiencing litter problems.
Trash Hero Koh Chang is an internationally recognised initiative brought to the island by locals who recognise the importance of keeping the place clean.
Our throwaway culture means that single-use plastic gets everywhere and pollutes even the world's most beautiful places, like Koh Chang.
Rather than sitting around complaining about this situation a group of local Koh Chang residents have recently formed a chapter of a fast-growing non-profit organisation called Trash Hero. Once a week they meet up and spend the morning picking up trash, which, with the help of local government trucks, is taken away and disposed of. Simple but effective.
We are keeping Koh Chang green and clean, by having weekly clean-ups and starting programs to reduce plastic use on the island.
You can easily identify the group by their bright yellow "Trash Hero Koh Chang" T-Shirts, and they have already made a big impact. Firstly there is less litter on the streets and their regular cleanups are also encouraging local businesses and individuals to look at their own environmental impact on Koh Chang. Similarly, a number of local organisations such as Koh Chang Rescue, The Koh Chang National Park and the local government have become involved in the cleanups as well as increasing their focus on how Koh Chang can deal better with the issue of litter.
Trash Hero welcomes visitors to their cleanups that are held from 9:00 am every Wednesday. The locations of the cleanups vary and you can see a listing below that gives a schedule of dates and times. You'll meet friendly people while doing something useful and a Koh Chang Trash Hero T-Shirt at 100 baht is a good memory to take back home with you. If you have gloves, plastic bags and a water bottle then bring them, if not they are provided by the generous donations of local sponsors who often also provide post-cleanup food and drink.
Sponsorship and donations of T-Shirts, cleaning materials and the like are also gratefully accepted. Of course, we mention all of our sponsors on the Facebook page. Thanks!
Next clean up planned:
| | |
| --- | --- |
| Date | Location |
| January 2nd, 2019 | Lonely Beach |
| January 9th, 2019 | Klong Prao / Kai Bae |
| January 16th, 2019 | White Sand Beach / Klong Son |
| January 23rd, 2019 | Bang Bao |
| January 30th, 2019 | Lonely Beach |
| February 6th, 2019 | Klong Prao / Kai Bae |
| February 13th, 2019 | White Sand Beach / Klong Son |
| February 20th, 2019 | Bang Bao |
| February 27th, 2019 | Lonely Beach |
| March 6th, 2019 | Klong Prao / Kai Bae |
| March 13th, 2019 | White Sand Beach / Klong Son |
| March 20th, 2019 | Bang Bao |

 






Meeting Points:
- Bang Bao: Bang Bao Temple
- Lonely Beach: 7 Days Minimart
- Klong Prao: Klong Prao Temple
- White Sand beach: Lagoon Resort
- Klong Son: Klong Son School
You can find out more here:
- Facebook: www.facebook.com/trashherokohchang/
- Website: https://trashhero.org/