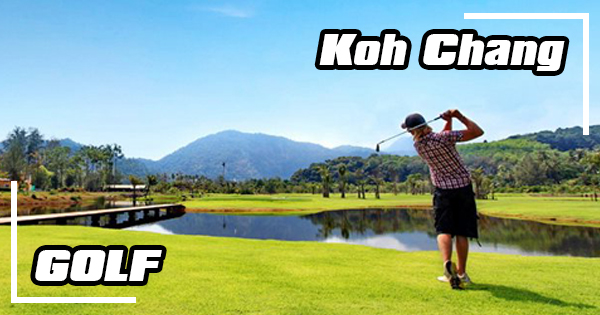 There are 2 places on Koh Chang where you can play golf, one golf course in Klong Son and one golf range in Klong Prao.
In Klong son, it's a 9 holes pitch and putts, par 27 golf course and it's is located at Siam Royal View, just a few hundred meters from the beach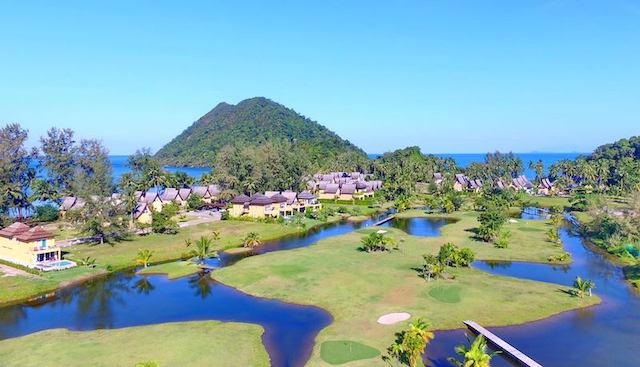 The holes which are named after the two nearby beaches are played over the same ground but in both directions, making it 18 holes, par 54 courses. The direction reverses daily at lunchtime.
Chang Noi nine, holes 1 to 9, par 27, 554 yards (507m - left picture) and Half Moon nine, holes 10 to 18, par 27, 571 yards (523m - right picture):
The golf course features raised greens, tee areas, and bunkers, surrounded by water and connected by wooden walkways.
The course was fully designed in compliance with the International Pitch & Putt Federation Regulations and tournament specifications.
Due to the relaxed beach environment, the holiday atmosphere and in line with other pitch and putt courses around the world, the dress code is less stringent than on a full-size golf course.
However, players must be dressed in at least a sleeved tee-shirt and shorts must be worn. Shoes are recommended.
Rules are the same as any other golf course and any disregard of the guidelines will exclude the player from the course.
Prices for 9 Holes:
200 baht for residents, 300 baht for non-residents, and 100 baht for children under 12.
Club set rental:
150 baht per set and per day (pitching wedge, sand wedge & putter in the bag).
(Children's set, small wood driver, 7 iron, pitching wedge, sand wedge & putter in bag)
Each set includes 10 tees and 10 balls.
Lost tees and balls will be paid after play. Additional balls can be purchased, 5 baht per tee and 20 baht per ball.
Only wood or biodegradable plastic tees are allowed. 
In Klong Prao, the opposite side of Jae Eaw Seafood restaurant is located Golf Driving Range Kohchang.
You can practice your golf swing but it can also be a funny activity for amateur golfers. The equipment is supplied, you pay only for the buckets of balls.