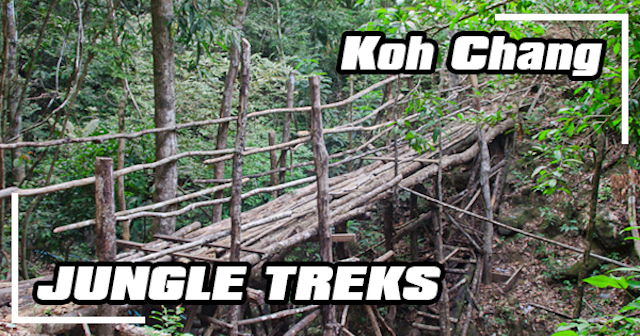 This is the best way to discover Koh Chang's nature and wildlife, a trek in the jungle with an experienced guide.
Never go deep into the jungle without a local guide. You may get lost and if nobody knows where you are it may take time to find you or for you to get your way back. So don't take any risk, there are lots of dangers in the jungle, slippery rocks, poisonous spiders and venomous snakes, and dense vegetation. On top of that there is no helicopter on Koh Chang to rescue you, if you're beaten by a snake or if you break your leg, you will have to walk all the way back. Be very careful and don't risk your life!
There are different types of trek with different lengths and for everybody. It can be half of a day to more than 24 hours with a night in the jungle. There are some tough ones with steep hills and easy ones accessible to everybody, even kids.
Don't be scared, nothing has ever happened in the forest when people have been with a guide.
The most difficult in a jungle trek are the heat, the humidity, and then climbing to the top of the mountains, especially during the rainy season when rocks are wet. But it's an excellent exercise.
There are plenty of good and interesting sides to doing a jungle trek. First, you will discover an environment you have maybe never seen. Your guide will show you plants you didn't even know, you will see and listen to wild animals and insects. You may cross tarantulas and if you are lucky… or unlucky you may see a few snakes. Pythons, King Cobras, vipers, and Rat Snakes are also living on Koh Chang. But animal lovers will enjoy watching beautiful birds, monkeys, mongooses, wild pigs, and other small mammals. It's not like being in a zoo, those animals are wild and it can be sometimes very difficult to see them.
Most of the guides have a big experience, some of them will supply you mosquito repellents as well as water and in some cases a lunch. Some of them can also propose you walking shoes but if you have your own take them with you, your feet will thank you. Avoid flip-flops, there are rocks and sometimes leeches waiting to suck your blood. Socks are recommended as well as extra water, you will sweat a lot!
If you can, wear a pair of runners, sneakers or trainers, something comfortable. Shorts and t-shirts are fine but if you scare mosquitoes, light trousers, and long sleeves will be better but also hotter, you have to decide what is the best for you. I would also advise a small backpack if you have one. Fill it with mosquito repellent, bottle(s) of water (or any other drink), and small snacks (fruits, cereal bars, as you want) to give you a small boost when you will start to feel exhausted. Don't load it too much, keep it light. Toilet paper in a small waterproof bag (to keep it dry) can also be useful, there is no toilet in the jungle and some leaves have huge prickles :)
Which guide?
There are lots of guides on Koh Chang, but here are the ones I recommend:
 - Sit from Koh Chang Adventure. For the most adventurous you can spend a night with him in the jungle.
More details: Koh Chang Adventure
Facebook page: www.facebook.com/kohchangadventure
Email: This email address is being protected from spambots. You need JavaScript enabled to view it.
Phone: + 66 64 109 2811
- Toon from Jungle Fever. An animal lover, a bird watcher, and an excellent nature photographer.
Website: Jungle Fever
Facebook pages: www.facebook.com/Jungle-Fever-Koh-Chang-Trekking-451473691577896/ and www.facebook.com/Wild-Koh-Chang-491776747570697/
Email: This email address is being protected from spambots. You need JavaScript enabled to view it.
Phone: +66 81 588 3324
 - Thomas from Thomas Koch Travel & Adventure.  He can also organise visits around the island and a kayak tour in the mangrove.
More details: Thomas Koch Travel & Adventure
Facebook page: www.facebook.com/ThomasKohChang/
Phone: +66 89 816 1401
- Raht from Koh Chang Trekking. A jungle lover, he likes to find and open new tracks.
Facebook page: www.facebook.com/kohchang-trekking-625912174105716/
Phone: +66 89 763 0832