If you are in Koh Chang for several days or weeks and want to discover more about the island but also see something different, why not make a one-day trip with a professional and experienced guide?
Any tourism agency or office in Koh Chang can propose you a guide but I really recommend Thomas Koch Travel & Adventure. Thomas knows everything and he has a particular way to show and explain the local life and traditions.
What can you do in one full day?
You can visit the whole island with Thomas. He picks you up with his minibus and he will bring you all around Koh Chang, from Bang Bao to Salak Phet, stopping to places you may not even notice by yourself. The explanations given by Thomas are all the time very interesting. You will enjoy lunch all together and lots of fun and happiness.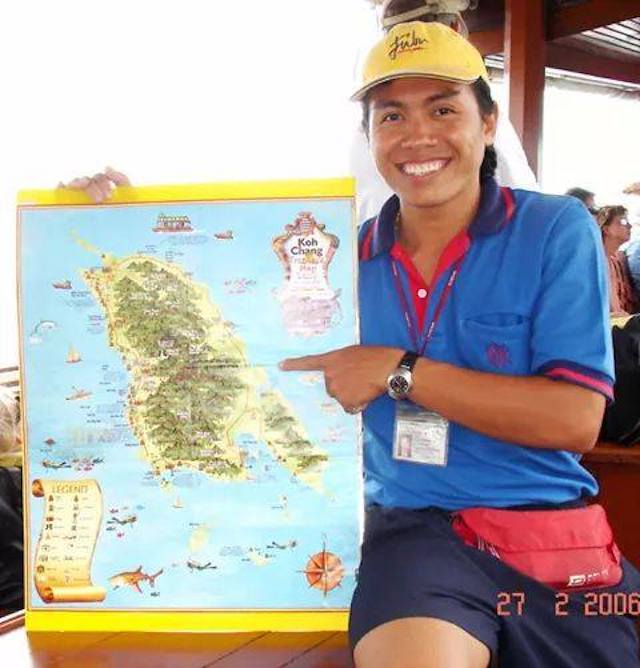 You can also have a boat trip around the island with Thaifun. They pick you up in the morning and you come back in the evening at sunset. It's an unforgettable experience. There will be a few stops, snorkelling, swimming, eating in the boat (the lunch is just fabulous), and a nice entertainment made by the most famous pirate on the island.
If you are adventurous and in good healthy shape, you will love the Jungle treks. The longest is about 7 to 9 hours. You will walk in the jungle with a guide who will bring you to the top of the mountain. If you are lucky... or unlucky, you will see tarantulas, snakes, monkeys, birds, and other insects. It's an interesting experience but be prepared, walking in the hot and humid jungle, also called rain forest isn't so easy, even if there are few fresh waterfalls to cool down. But the reward will be once arriving on top of Koh Chang.
And fishing fans can also have fun with a day or night fishing in the Gulf of Thailand and eating their catch with the crew. They come to pick you up to bring you to Bang Bao pier from where you will leave in a real fishing boat.