Koh Chang Nature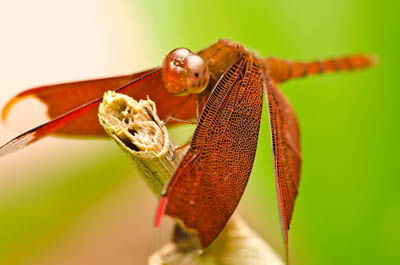 Welcome to Koh Chang Nature – a collaborative project to identify and monitor the land and marine wildlife of Koh Chang Island in Trat province in Eastern Thailand. The idea for this came about because there just isn't anywhere that has detailed information on what species are currently to be found on Koh Chang. In the Koh Chang Guide magazine, we're still publishing wildlife information that was gathered from a survey commissioned by Thailand's National Park in 1992. Given all the development that has happened since then, that might as well be the stone age.
Who knows if all of those species are still there? Well, you do. And that's the idea. This site will pull together your contributed photos of sightings of all kinds of animals above and below water on Koh Chang and we'll add a page for each new species that is identified.
The Findings of the 1992 Survey
The Findings of the 1992 Survey The survey conducted for Thailand's National Park Service in 1992 recorded 29 different species of mammal on Koh Chang. These included the Stump-Tailed Macaque, Barking Deer, Wild Pig, Javan Mongoose, and Silvered Langur.
Birdwatchers will be pleased to know that 74 bird species were found including the Nightjar, Pacific Swallow, Yellow Vented Bulbul, and Oriental Pied Hornbill Additionally the survey noted 42 different species of amphibians and reptiles. Snakes that inhabit Koh Chang include the Python, Rat Snake, and King Cobra. Malayan Mud Turtles, Monitor Lizards, and the ubiquitous Geckoes are also found on the island.
So let's see how many of those beasts are still here. I guess it goes without saying that you should be careful in your Koh Chang nature searches. Some of the animals you'll find on Koh Chang are pretty scary and dangerous; don't take any unnecessary risks getting those photos. We can't take any responsibility for any accidents resulting from nature quests. Be sensible.
Expert Help Needed
Expert Help Needed Processing and identifying these creatures is going to be a challenge. If you have the expertise, any at all, that you can share with the project then please let us know and we'll be more than happy to have your assistance.