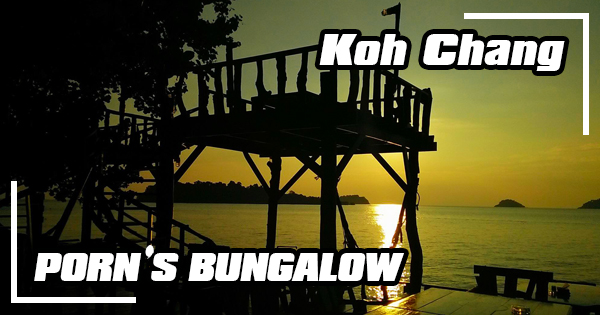 If you are looking for basic and cheap bungalows with a beachfront and not so far from an active village, then check out Porn's Bungalow, it's the only backpacker-style place on Kai Bae.
The owner's name is Jiraporn and Porn is just his nickname, don't expect anything else.
Porn's Bungalow is located on the south end of Kai Bae beach. It takes about 10 minutes to walk to the center of the village where you can find all that you need (restaurants, pubs, drugstores, ATMs, supermarkets,.....).
They have 20 basic bungalows of different sizes and different styles which all include a double-size bed with a mosquito net, free small bottles of water, a fan and a bathroom with a toilet, shower with hot and cold water.
Walls are very thin and you can sometimes get the feeling to sleep directly on the beach, so just be aware that you will listen to the noise from outside.
All bungalows have their own terrace with furniture and some with a hammock.
Free Wi-Fi is also available for all the guests but works only at the restaurant.
The breakfast is not included in the price of the rooms but you can take it at Porn's restaurant.
The restaurant is mainly serving Thai food in a Thai style which means you don't have to be in a hurry but you will get very good dishes.
They also serve drinks all day long which can be enjoyed on the beach or on in their tree-terrace, facing the sea.
The place is simple but very nice and the sunsets from their restaurant are the best.
They also propose different types of massages you can get straight in front of the beach.
Unfortunately, they don't accept reservations by phone or by email, walk-in only!
If you need more information, you can send them a message from their Facebook page, they will reply.
For more details:
- Facebook page: www.facebook.com/Pornsbungalow-Kohchang-Restaurant-1610614365852770/
- Website: none
- Email: This email address is being protected from spambots. You need JavaScript enabled to view it.
- Phone:  +66 90 898 8816