Suvarnabhumi Suite Hotel
Suvarnabhumi Suite Hotel is located in Lat Krabang, about 10 minutes by car from Suvarnabhumi International Airport. The hotel has a private shuttle available for their guest 24 hours a day but it's not free. Count 200 Baht for 2 persons.
This is not a 5 or 4-star hotel but for a night and for the price of the rooms, this is perfect if you want to be close to the airport.
This hotel is more known for its robots than its rooms. The owner has a huge collection of amazing static robots. The front garden is full of them. They are made of vehicle and motor parts, they are very well made and very tall. You can see the famous Bumblebee and Optimus from the Transformers but also Alien, Spiderman, Captain America, Jack Sparrow, and more. They also sell small replicas if you are interested or if you want to start a new collection.
Even if it's not far from La Krabang busy road, outside at the pool, on the terrace of the rooftop restaurant, or inside your room, you don't notice the road traffic. I don't like noisy hotels and I didn't pay attention to any noise, I really slept well.
On the road and at a walking distance there are small restaurants, pubs, a small supermarket, and Suvarnabhumi Market and night market. If you want to eat or drink somewhere else, it's not a problem, you won't have to order a taxi.
Just behind the robot's garden and protected from a bushes fence there is a small but nice swimming pool with few loungers.

The Fitness Center is not very big, with one treadmill, a cross-trainer, 2 bicycles, a set of dumbbells, and a multi-exercise machine with a view to the pool. Like the swimming pool, there is free access for the hotel's guests.
Free towels are also available for the pool at the Fitness Center.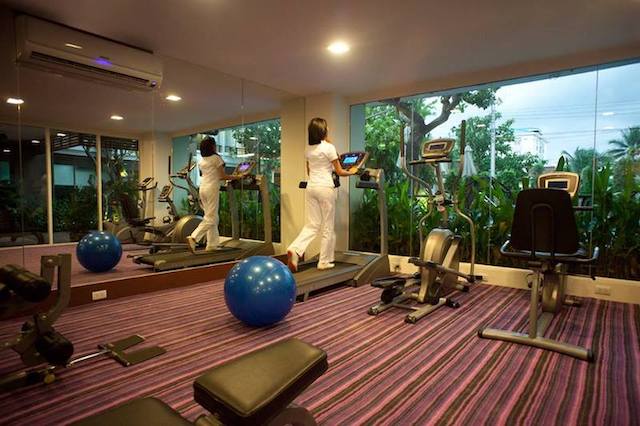 There are 90 rooms in this hotel and they are divided into 5 categories.
- Superior Cube:
The cheapest room but there is no window. Don't be surprised if you book it, that's why it's called a "Cube".
The room includes a satellite TV, free Wi-Fi, a safety box, a minibar, a kettle with coffee and tea facilities, a hairdryer, and a bathroom with a shower and toilet.
- Studio Room:
It includes the same facilities as the Superior Cube but there are windows. It's a little bit smaller than the Superior Cube.
- Superior Room:
It has the same facilities as the Superior Cube but there are windows and a balcony. It's the same size as the Superior Cube.
- Deluxe Room:
It has also the same facilities as the Superior Cube but there are windows, a balcony, and a DVD player. It's slightly bigger than the Superior Room.

- Suite Room:
The biggest room is made of a bedroom and a living room. It has the same facilities as the Superior Cube but there are windows, a balcony, 2 TV (one in each room), a fridge, a microwave oven, and a Jacuzzi. It's a Suite!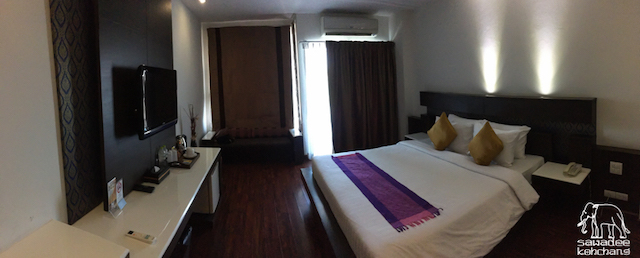 As you can guess, the Lobby Bistro where they serve drinks and snacks is located at the Lobby.
On the last floor, you will find the Veranda Café with its rooftop terrace. Breakfast but also snacks and drinks during the day, lunch and dinner are served at this place.
The breakfast buffet is not included in the price of the room but there is a reasonable choice of western food.
The restaurant is proposing Thai and Western food. They also have very good cocktails.
And if you are on Facebook, just Like, Share, or Check-In at Suvarnabhumi Suite Hotel Facebook page and you will get 10% off your menu.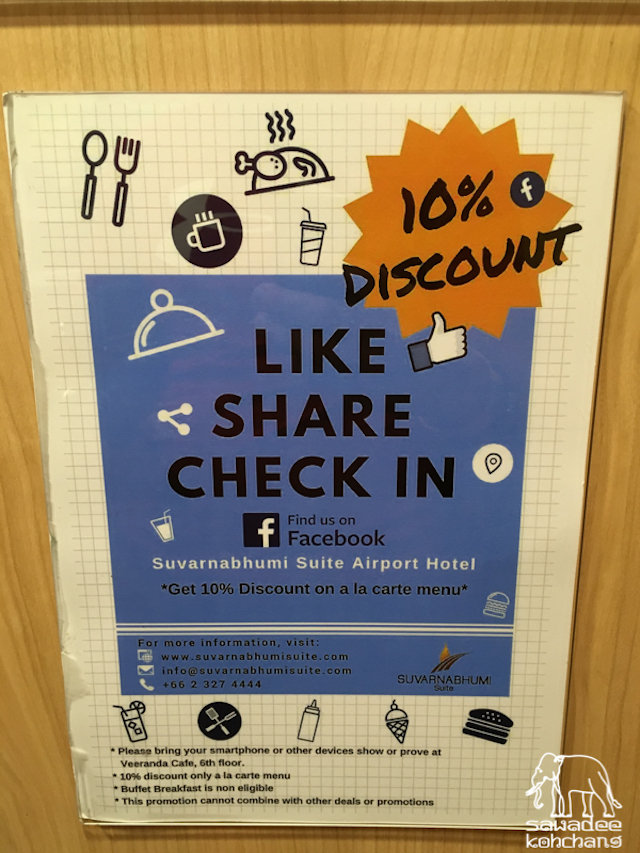 Still, on the last floor and on the roof, you will find Paradee Spa. They propose different types of massages and body scrubs.
As I wrote at the beginning, it's not the fanciest or most luxurious hotel you can find in this area, close to the airport and with a shuttle but if you have an early flight or arrive late at Suvarnabhumi airport, this hotel is perfect for one night and it's quite cheap for the quality and facilities they are proposing. On the link under the video, you can get pretty good deals!