Bhumiyama Beach Resort
Bhumiyama Beach Resort is a 4-star resort located on the north part of Lonely beach village, at 500 meters, 5 to 7 minutes walk, from the heart of this area where you can find different kinds of shops, pubs, restaurants, tattooists like Danny Tattoo that I really recommend, a gym and other small businesses.
In Thai, Bhumi means "place" and Yama is the kingdom of Heavens in Buddhism. You got the point, this place is a small Heaven!
Lonely beach is reputed to be a backpacker's area with loud music and night parties. This is true, at least in the walking street of the village, especially in the evening until late. Bhumiyama Beach Resort is a bit away from this busy area but don't be surprised to listen to music in the evening during the high season.
Bhumiyama Beach Resort has been awarded for several years by several travel agencies which show the satisfaction of their guests.
This resort is located directly in front of the beach, in a beautiful tropical garden. This is a sandy beach but every low season a strange phenomenon appears, the sand is washed away, leaving rocks. And then before the high season, the sand reappears on the beach. This is like that every year.
Sunsets at the beach, at the restaurant or at the pool which is facing the sea are very romantic.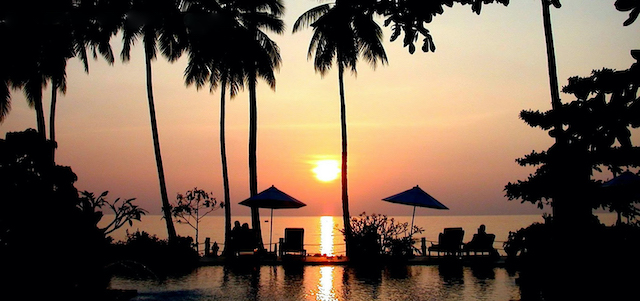 The resort is made of individual rooms and bungalows.
There are altogether 46 rooms with Garden or Sea Views. 30 Superior type rooms are dispatched in 2 different buildings and 16 Bungalows are spread inside the tropical garden.
All rooms have a balcony and are equipped with individual air conditioning, a cable TV, a private bathroom with shower and bathtub with hot and cold water, a hairdryer, a minibar, a safety box, free tea, and coffee and 2 free small bottles of water added daily.
On top of that, the rooms are cleaned every day as well as the replacement of bedding and towels.
It's also possible to get room services like breakfast, snacks, lunch, or dinner.
For families, it's possible to add an extra bed in the room and if you need it, the resort can supply a baby sitter, both at extra cost.
Free Wi-Fi is available in all rooms as well as everywhere in the resort. A small and free Internet café is at your disposition in the Lobby area.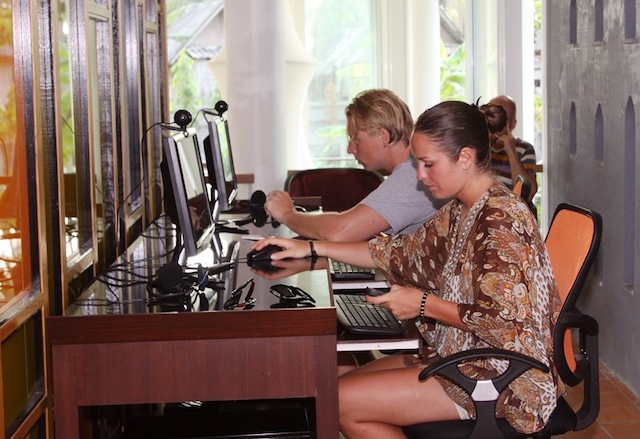 The breakfast is included in the room or bungalow's price and served at the restaurant. They are proposing an American Breakfast (ABF) made of a buffet or 'à la carte' for the room service.
There are fresh coffee, tea or milk, fresh juices, sausages, eggs, bacon, bread, toasts,... all that you can find in a continental breakfast but also Thai food.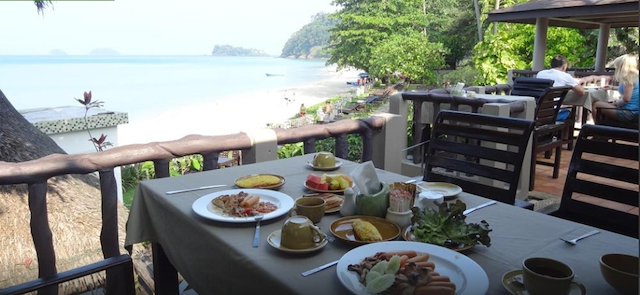 You can also have your lunch or dinner at the "By the Sea" restaurant, as well as any snacks or drinks which can be ordered at any time during the day.
There is on the menu a large choice of dishes, Western and Thai cuisines but also for kids. They also propose "Dinner package menus" which can sometimes be included in their offers when you stay in the resort for several days. Please check with them to know more about it.
The swimming pool is very nice and big. It's made of multi-level pools which include a kids pool and a Jacuzzi, all located in the same area and in front of the beach. You can order any kind of drink at the pool bar.
There are sunbeds around the pool as well as nearby the beach.
In the Spa, you can get different types of massages and treatments. The expert Therapists will relax your body but also your mind, they are professional and well trained. 
Yoga courses can be organised inside the resort's garden near the beach, on-demand, and for groups. Ask the reception or contact them by email in advance.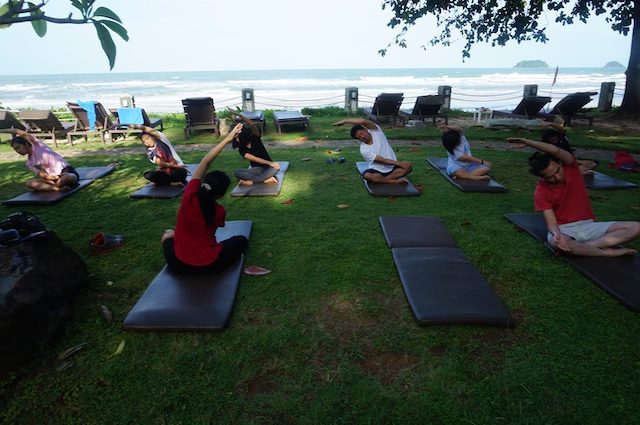 They also have a conference hall which can welcome up to 70 people in a classroom style. This is more for companies which want to arrange their meeting or training in a peaceful and relaxing place. And to complete, they can also organise banquets.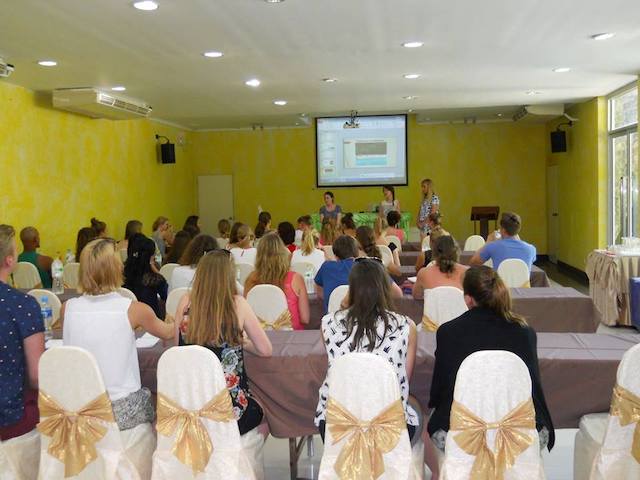 Bhumiyama Beach Resort is one of the romantic places in Koh Chang where you can celebrate your wedding or spend your honeymoon.
They are ready to help you to plan everything to make your day unforgettable. Just contact them early enough to have enough time for the organisation but to also be sure that another wedding is not planned for the same day.
Taking care of their guests is one of the priorities of the resort and do not be surprised if they remember your birthday and come to surprise you with a cake and a bouquet of flowers.