Bang Bao which is located at the extreme south west of the island is more known for its pier than its beaches. Nevertheless, there are 2 beaches, Sai Noi Beach which is very small and Klong Kloi Beach, more knows and bigger. Both are very quiet with few businesses around. Klong Kloi has maybe more the hippies vibe with peaceful pubs and cheap restaurants and bungalows like Sea You Place, Tree House Cottages, Tranquility Bay Residence, Tropical Beach Resort and Koh Chang Boat Chalet to name few of them.
Traditional bamboo tattoo by King is also located in Klong Kloi village and he is one of the tattooists I can recommend in Koh Chang, especially if you are looking for a bamboo tattooist.
There are also places where you can snorkel and see lots of fishes, especially at the high tide like nearby Cliff Cottage, Nirvana Resort and even on the other side, around Bhuvarin Resort and Resolution Resort.
Bang Bao was in the past a fishermen's village with stilts houses. Nowadays the fishermen's village is more like an indoor souvenirs gallery on a pier. There are still the stilt houses but most of them are now shops selling clothes and all kind of souvenirs you can find anywhere else. In the past those shops were more expensive than the others you can find in the island but it seems they understood that if they want to sell they needed to decrease their prices.
There are a few very good seafood restaurants right on the pier with a nice view on the bay. Depending of the day and time, it can be very quiet but my favourite one is Baracuda restaurant, small but serving good food. 
There are also few rooms to rent like at Bang Bao Paradise, Buddha View Guesthouse or El Greco Lounge Bar Greek Guesthouse for example.
And if you are looking for a place to stay with a unique experience, then I recommend you The Buddhaview which is a very nice guesthouse, restaurant and lounge bar.
Most of the tour and transfer boats going to the other islands or snorkelling and diving boats are moored at Bang Bao pier. Diving schools also have their main office at the pier. Bonsiri High Speed Ferry is also now going from Trat to Bang Bao pier and from Bang Bao to Koh Mak and Koh Kood (more details: https://boonsiriferry.com/en/allroute)
If you walk up to the end of the pier, you can see typical fishing boats drying their last catch. You will not miss the lighthouse, it's in better condition outside than inside but the entrance door is now closed to visitors.
In the evening, you can get stunning sunset pictures.
The pier is not very wide so the best time to visit it is when the tour boats have left and before they come back otherwise it may get a bit busy. In high season it's quite easy to catch a taxi to go or to come from Bang Bao. In low season this is more difficult and they will over-charged you.
There are good small resorts in this area like Bhuvarin Resort which is one of my favourites, located on the small peninsula. There are also Cliff Cottage, Nirvana Resort, Klong Kloi Cottage, Tranquility Bay Residence and Sea You Place for example. Those resorts have nothing to do with the ones from the other beaches like White Sand beach, Kai Bae or Lonely beach, they are more peaceful and very relaxing.
Best deals in Bang Bao:
(61 pictures in the gallery in a random order)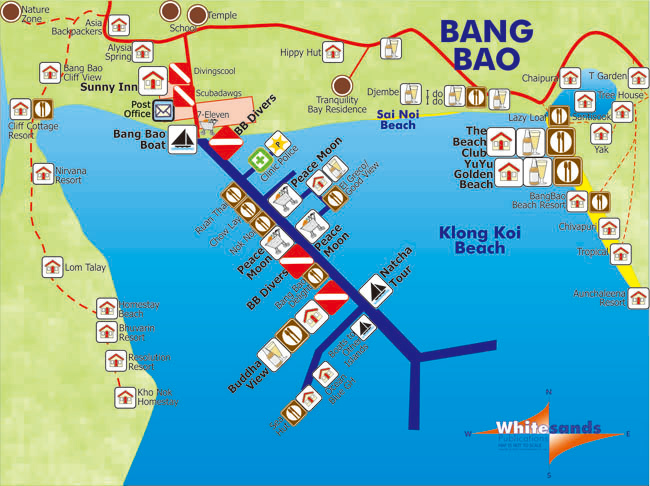 Copyright:
Please note this map is copyright 2001-13 White Sand Publications Co. Ltd. and may not be reproduced or published either in print or electronically without the express written permission of White Sand Publications Co. Ltd.